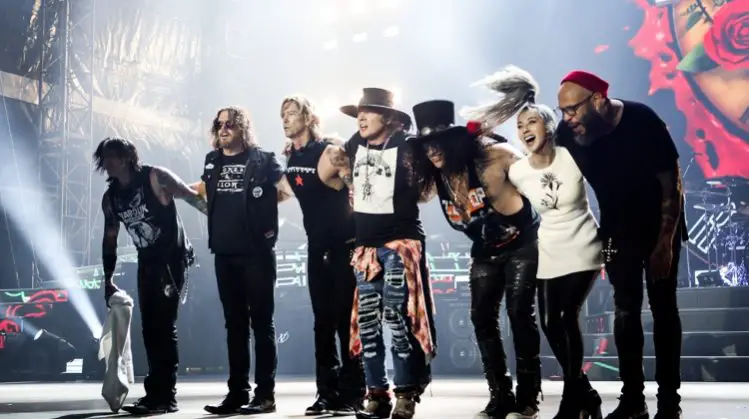 Guns n' Roses have postponed the start of their long-awaited world tour. The series of gigs was due to kick off in Mexico City on March 14th. That gig will not now be taking place, and with restrictions being put in place all over the world, it may be the first of many concerts that the band has to cancel.
In typical style, the band took a light-hearted approach to the cancellation. After making the announcement they took to social media to share an image of their classic 'Appetite for Destruction' album cover, but with the faces of every member of the band covered with masks, and the title changed to 'Appetite for Vaccination.' Axl Rose and friends clearly aren't as happy to play fast and loose with basic health, safety, and hygiene principles as they were in years past. Inevitably the posting on the image led to a small backlash from Twitter's anti-vaxxer contingent, but we're sure that the band won't let that get to them.
Guns n' Roses aren't the only big-name music act to run into troubles in the past week. As we reported on this website a few days ago, KISS has taken the precautionary step of canceling meet and greet sessions with fans on their ongoing 'End of the Road' tour as well. At the time of writing, the tour itself is still continuing, but that could all change within a matter of days if the situation gets any worse. Concerts and festivals all over the world are either being postponed or being placed at risk of postponement or cancellation. Even Coachella – a favorite of the Instagram influencer crowd – is currently finalizing plans to rearrange for October rather than allowing thousands of people to congregate together in California in April.
Normally a band in these circumstances would be ruing the cost of the cancellations, but neither Guns n' Roses nor KISS have much cause to be concerned about money. Both bands are masters of branding and merchandising, and have everything from official beers to official games at online slots websites. They're not the only bands to have lent their music and image to a series of UK Online Slots, but they are among the most successful. We don't know whether they get a cut of any of the money spent on their respective online slots, but if they do, the members of the bands would probably appreciate any gamblers who could visit their reels and give them a spin between now and the time they're able to head back out on the road!
When that date might be remains to be seen. Current forecasts say that the worst of the scare will be over by early summer, and the world can begin to get back to normal by early Fall. Different countries have responded to the crisis in different ways. Italy has entered a state of total shutdown, France is canceling sports matches and major public gatherings, and countries like the United States of America and the United Kingdom are avoiding canceling anything at all unless the situation gets worse. As Guns n' Roses have concert dates planned in both North America and the UK, they can at least go ahead with those plans as things stand. This is a fast-moving situation, though, and by the time you read this, everything may have changed.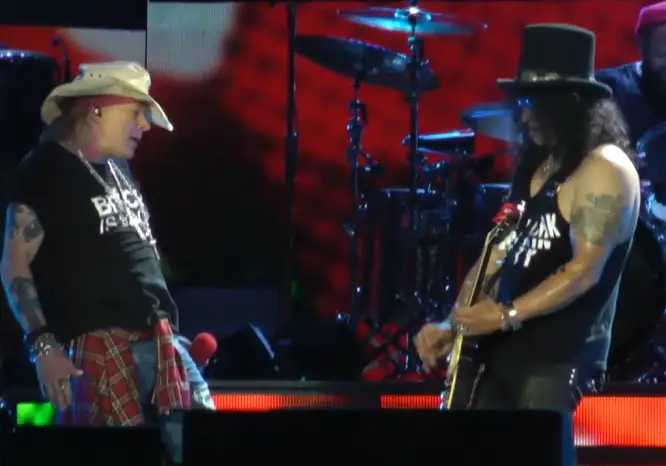 Further afield from Guns n' Roses and KISS (and the aforementioned Coachella Festival, which we imagine you were less interested in), several other major rock acts have also confirmed rearrangements, cancellations, or postponements within the past 48 hours. Whitesnake, Pearl Jam, and Green Day have all canceled entire legs of their past tours. Bryan Adams has come home early from his tour, and Sons of Apollo followed on not far behind him. Queen and Adam Lambert have had to pull out of a planned concert in Paris due to the ban on large public gatherings there, too.
The South by Southwest festival was canceled several days ago, and will in the process have ruined many people's plans to see Trent Reznor and Ozzy Osbourne in concert. Santana, who's been on several people's 'must-see' lists for several years, has taken the difficult decision to cancel every European date on his 'Miraculous World' tour. Slipknot, who were supposed to top off a tour of Asia with an appearance at Japan's Knotfest, have had to back out of those dates. The entire festival is now canceled. Poison legend Bret Michaels wasn't out on tour, but he was scheduled t be taking part in an 80s-themed rock cruise on a cruise liner. The event is still going ahead, but Michaels' status as a Type 1 diabetic means that he'd be at extreme risk of contracting the disease and might also be left without medication if the cruise ship was to be quarantined.
One veteran rocker who's managed to find an inventive way to carry on playing is Van Morrison. The French ban on public gatherings only applies to gatherings of more than one thousand people. Van Morrison was scheduled to play at Paris' L'Olympia to slightly more than that number, and so he asked half of the audience to turn up at half-past seven. When that set was done, and his early audience went home, he played again for those who arrived later. Not everyone will be able to get away with the same trick, but we applaud Van Morrison for his inventiveness.
Anyone who has tickets for any of the affected concerts and festivals is advised to contact their ticket provider in the first instance for news about refunds. All of the affected bands have stated that they intend to return as soon as possible to the locations that they haven't been able to reach this time around, but at present, are unable to give precise details as to when that might be.