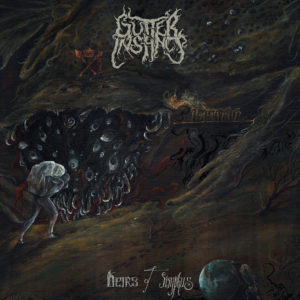 I avoid comenting on band's names. I don't know, I just don't like to do it so. Of course, sometimes I have the urge to, but I count until ten, or more, breath, and go on. But I can't help it when they come to be a perfect match with the band's sonance. That is exactly the case with Gutter Instinct and "Heirs Of Sisyphus." A perfect blend of name and sonance.
It would be a lot easier to label Gutter Instinct as a doom metal band. Or a blackned doom metal as a lot of others. But it's not so easy. "Heirs Of Sisyphus" is too much complex to be fit in only one label. Well, first things first. Let's suppose you are one of those fans who only listen to the first track to select a band. So, of course, you begin with "Satan Within" at first. There are so many cadences and tempo changes in it that you give in to label Gutter Instinct. First thing to call the eyes is the drums speed. Fast as the speed of light. Gutural voices from hell. Black metal, okay? No, it isn't. There is a neat finesse in it that makes you balance. Second track, "Zenon," makes it much more difficult. Guitar riffing is simple, but effective. Thrash? Nah, not so fast. Cadence is sludgy in some parts. Drums use a 1980ish Heavy Metal upbeat. Vocals soften a little, just a little. Yeah, not an easy task. Let's forget it, shall we?
Gutter Instinct are not, in terms of instrumental, a technical band. Guitars are simple, but really efective. Though, in "Shock Doctrine," they work with some pretty good dissonance. The final riffing is tricky as well. After all, what is it that makes Gutter Instinct so attractive? Allow me to say that the thing is their creativity. Though vocals don't change so much, instrumentals do. And a lot. That what attracks listener to them. And of course, the from-the-gutt sonance. Gutter Instinct seem raw without beeing raw.
BTW, the instrumental sequence in the middle of "Tip of the Speer" is so cool!
Gutter Instinct "Heirs Of Sisyphus" will be released on June 08th via Pulverized Records.
Track Listing:
Satan Within
Zenon
The Abyss Speaks
Shock Doctrine
Uncreation
Tip Of The Spear
The Luminous Darkness
Heirs Of Sisyphus