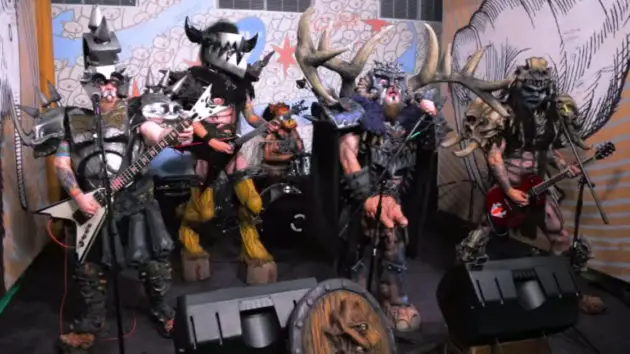 The time has come, your Lords and Masters GWAR have unveiled the details of their latest masterpiece "The Blood of Gods". Today the first single "Fuck This Place" is available for audio and video streaming and can be watched below.
The Berserker Blothar says:
"Fuck This Place," the name says it all. Look around you. Your life sucks. Your planet is dying. You want to kill yourself and everyone you meet. So do it. You've drenched yourselves in gasoline, and now GWAR offers you a light. The finish line of the human race is at last within reach. Scream it now at the top of your lungs…"Fuck This Place!"
"The Blood of Gods" is nothing less than a sacred text chronicling the rise of humanity against their makers, and the massive battle between GWAR and the forces of all that is uptight and wrong with the world. Along the way, the band challenges the sins of their great mistake, from politics, pollution, and organized religion, to fast food, and factory farming. Humans are shown as what they are; a parasitic disease that must be eradicated before they suck the planet dry.
Sleazy P. Martini comments on "The Blood of Gods"
"Sorry scoffers, you thought GWAR was finished? You're the one who's finished when GWAR starts their fall tour after dropping their heaviest album yet. "The Blood of the Gods" will be the soundtrack that covers up your pathetic cries for mercy. So go ahead and scream all you want. Just make sure your in key or your death will be excruciating beyond comprehension."
"The Blood of Gods" Track Listing:
1. War on GWAR
2. Viking Death Machine
3. El Presidente
4. I'll Be Your Monster
5. Auroch
6. Swarm
7. The Sordid Soliloquy Of Sawborg Destructo
8. Death to Dickie Duncan
9. Crushed By The Cross
10. Fuck This Place
11. Phantom Limb
12. If You Want Blood (You Got It) – AC/DC Cover