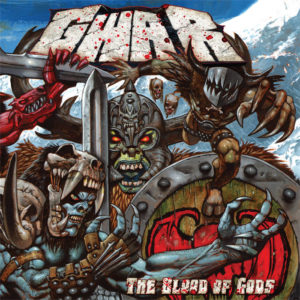 What can we say of an album that the coolest track has the gentle name of "F**k This Place"?
No, boys and girls, social criticism is not present in Metal only in thrash bands. Metal is a big "F**k This Place." Or are you satisfied with the crap all around? If you are, there's always Rihanna for you. Hum, not the best example, Rihanna is hot after all…
I won't say I'm a big Gwar fan. I'm not. I mean I knew they existed. You know how it goes. They showed up with all those costumes, and flamboyant stuff in the middle of the 1980s. I took them as joke. A late friend of mine like them a lot. He did show me some tracks, but I wasn't really surprised. There were Iron Maiden, Saxon, Judas Priest, Metallica, Cirith Ungol, Guns n' Roses, Slayer, Testament and other hot stuff poping up that time. So sorry for that. I'm not really proud of my attitude, but there's always time to set things straight. Some wisdom  comes with the aging process.
Gwar are a great band if I take for granted only this "The Blood of Gods." There is some sort of rational line of thinking underneath those buffoness from what I've been reading. "The Blood of Gods" is a pretty heavy album. Though some songs are pretty hard rockish, others are a direct punch in the face. Pure metal stuff. The apple of the eyes is the AC/DC cover of "If You Want Blood (You Got It)." In short, there are moments that you feel that "The Blood of Gods" is a kind of hodgepodge of styles. It doesn't mean anything except that sometimes there's the feeling that Gwar are looking for a direction. Listen the sequence of "Death To Dickie Duncan" and "Crushed By The Cross" to get what I want to say.
Just one more thing: "F**k This Place" rules! One of the most honest of all. Gwar's "The Blood of Gods" is a pretty good album though. You may not like the image, but we're here to talk about music, and Gwar do that well.
Track Listing:
War on GWAR
Viking Death Machine
El President
I'll Be Your Monster
Auroch
Swarm
The Sordid Soliloquy of Sawborg Destructo
Death To Dickie Duncan
Crushed By The Cross
Fuch This Place
Phantom Limb
If You Want Blood (You Got It)
Watch "I'll Be Your Monster" official video here: