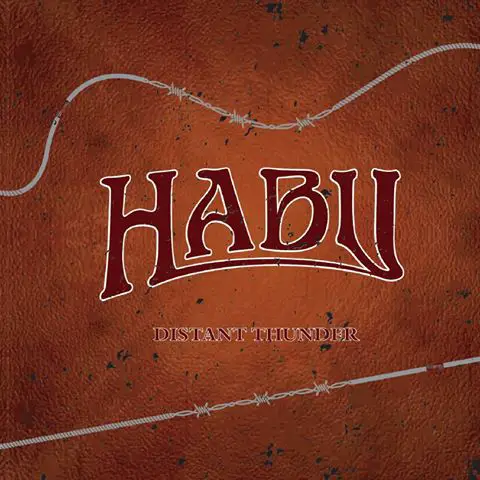 There aren't enough words to express how diverse the Metal scene is today. A band like Habu and "Distant Thunder" come to remind us that. The general feeling approach is the early 1980s pre-progressive Metal. Rush are the band that give the final touches and the general feeling. Besides that there lots of strumming and clean guitar guitars riffing and passages, a thing that many Metal bands used to do back then. Judas Priest are one of them if you consider their early 1970s era. Habu go in this direction, but as I said there moments as in the middle of "Operation Paperclip" that Rush's influences appear more clearly. There are some echoes from the 1970s instrumental efforts as Jeff Beck's, but they are not predominant at all.
"Distant Thunder" comes to fill in a blank that bands ususally don't fill up which this facete of Metal history. In general, the outcoming is pleasant to the fan's ear. Habu achieve to emulate the exact mood of those times and the right tone of the instruments which is particularly difficult not only because of the tones themselves, but the way songs were built which is a bit different than today's music. There is still a place to remind an unsung band of those times which is Triumph. "Panorama" sounds just like "Never Surrander" era with some technopop features in the guitars and some electronic effects. With a bit more effects it wouls sound as Duran Duran – ooops! But its instrumental final minutes make no mistake to the fan, it's a pure demonstration of prowess and good taste – whatever this word may mean. There are really interesting guitar phrases in those passages.
Though the very first moments of "Wireless" may deceive the fan with its jazzy pop notes, the song soon takes off as it happens to the album "Distant Thunder." In a few moments the fan understand Habu and their intent. Surprisingly, I must say because in no moment the fan expects that the music that comes from the album will be this way. It's the kind of surprise I like. "Nuke the Moon," for instance, gets perfectly the mood of the epoch it flourishes. A kind of pre-Queenrische theme, if you know what I mean.
Habu "Distant Thunder" was self-released on March 07th.
Track Listing:
 Whirlwind
Panorama
Wireless
The Arrow
Nuke the Moon
These Walls
Operation Paperclip
Goodbye
Watch "Goodbye" official music video here: