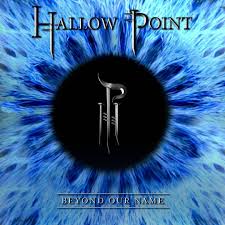 "Beyond Our Name" got me right in its very beginning, right in the opening track 'Vengeance Overdue'. The primal scream that opens it comes with a voice that seems to be direct from the guts. I really like that! Another thing, the deal Hallow Point do with the dual aggressive and clean vocals is nicely perfomed, and which gives them a touch of modernity. Unadivised one who listens to only one track of "Beyond Our Name" will easily labels them as metalcore ou something like that. And that would be a big mistake. Although vocals could seem metalcore, the guitars are much more. The subtle and seventish guitar solo of 'Frontline' lays no doubt of it. Metalcore guitars are not subtle, and they're not meant to be. But Hallow Point's sometimes are. They provide a solid layer of sounds that allows the singer to fly away. Sometimes, like in 'Blkistering', the guitars give the needed emotion bit to catch the listener.
Said that, I'd like to highlight the vocal habilities of singer Tony Milson. It's very hard to do what he does in 'Acedia'. The guy makes about three diferent singing tunes in only one song. And the most impressive is how he can emulate Sepultura's Max Cavalera grows. The grows really come from the guts. I have no doubt about that. From my personal point of view, bands that mix different feelings are the ones. I really take for granted the efforts to mix the mild and the aggressive, the dirty with the clean, the angelical with demonic. That's what we are made of, aren't we? We are the controversy itself! And for sure extreme metal music is all about that.
Fans of early Soilwork and In Flames will enjoy Hallow Point's Beyond Our Name for sure.
Vengeance Overdue
Acedia
Frontline
Beyond Our Name
Blistering
Watch 'Acedia' official video at: