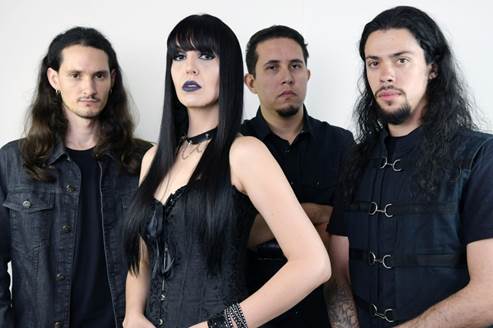 From noise to silence. From start to finish. It is commemorating the end of the cycle of the debut album "Unreflected Mirror" (2018) that Hamen release the acoustic version of "Chimerical Love" in single and video format. Accompanied only by the piano, vocalist Monica Possel shows her vocal range and technique in one of the most loved songs by fans.
"After a year of pandemic and after achieving public recognition, we want to celebrate this delivery of fans. We wanted to deliver something of value to them and that's why we tried in every way to make new material that could impact them, in the same way that our fans impacted us during the pandemic. In this way, we started to produce a reinterpretation of this song, one of the most listened to by the public", says Monica Possel.
The release of the acoustic version of "Chimerical Love" represents the end of a cycle, but it doesn't mean goodbye. It is the celebration of a milestone, an achievement that deserves to be shared with fans. This is Hamen's first professional clip and has a script that refers to the idea of ​​the main character of the song, who is in search of love, although she doesn't know if it exists, living an experience of platonic love.
"We sought to highlight the piano, because it is also a protagonist in this story. An intimate environment was created, which at the same time incorporates energy and vigor, referring to the character's emotions when not finding her novel.", evaluates Monica.
Launch of the official Hamen global store
The release of the single "Chimerical Love" (Piano Version) also marks the presentation of the Official Global Store, which will offer the band's official merchandising with shipping to all countries around the globe. Access and get to know: https://hamenofficial.myshopify.com/
The cover of the single is authored by Rafael Spoladore and will be known in advance by fans who participated in Hamen's Patreon, or who buy merchandising items in pre-order.
The acoustic version of "Chimerical Love" features Monica Possel (vocals and lyrics) and Douglas Codonho (piano). The cover art for the single is by Rafael Spoladore. The direction was carried out by Pulso Estúdio, which also participated in the screenplay with Monica Possel. The video is sponsored by Dark Fashion.
With an eight-year career, Hamen bring in its discography the EP "Altar" (2015) and the debut album, "Unreflected Mirror" (2018), which featured a special guest appearance by Marcelo Barbosa (Angra). Since then, the band has participated in international compilations and online festivals during the pandemic, becoming one of the representatives of Brazilian symphonic power metal. Led by Monica Possel (vocals), winner of the European FemMetal award in the Best Operatic Vocals category, the group also features Cadu Puccini (guitar).
Listen to "Chimerical Love": https://song.link/br/i/1595451977
Follow Hamen
Site oficial: https://bit.ly/hamensite
Facebook: https://www.facebook.com/hamenofficial/
Instagram: https://www.instagram.com/hamenofficial/
YouTube: https://www.youtube.com/hamenofficial
Watch "Chimerical Love" here: