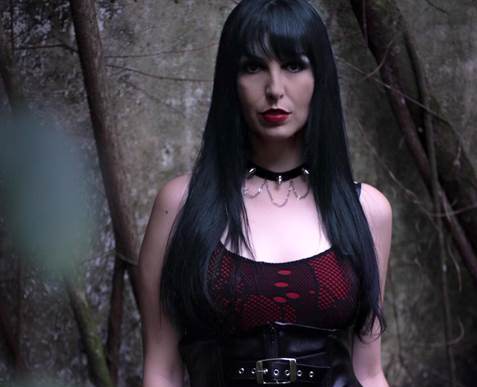 Brazilian metal showed its power during the FemMetal Awards 2020, held by the website FemMetal, and which consecrated Monica Possel, vocalist of Hamen with the award for Best Operatic Vocals. The singer was the only representative of Latin America in the award and surpassed competitors from Europe and North America. The popular vote took place between December 14th and 21st and had a special taste for the frontwoman, who won with more than 30% of the votes.
"This award I dedicate to my bandmates for allowing me to work with quality music; female underground scene for strength and unity, which motivated us even more during this pandemic year; and my fans and Hamen fans for always supporting and motivating us to continue. This award is a huge victory for me. It shows that we are going on the right path with a lot of quality, persistence and that with talent and persistence we can get there. We really want to reach international markets and this award will make a lot of difference and importance for that". thanks Monica Possel.
Encouraging the union among women of metal, Monica is also one of the best known voices when it comes to sorority:
"I believe that this award for the female underground scene will be a reason for us to increasingly join our forces. I was the only Brazilian to be nominated and the only Brazilian in 3 editions to be awarded, this shows the female strength and that together we are stronger.", says Monica.
Created in 2013, Hamen appeared to Brazilian metal scene with 2015's EP "Altar," and since then, the band has released 2018's full length "Unreflected Mirror" and were part of international collections, turning into one of the most representative bands of Brazilian Symphonic Power Metal. The album has as its theme notions covered in science fiction, as alternative worlds and also has influences from the literature of Arthur C. Clarke, author of "2001 – An Odyssey in Space," among other classics. Hamen are Monica Possel (voice), Cadu Puccini (guitar), Gabriel Pedroso (drums) and Matheus Maia (bass).
Currently, during the pandemic, Hamen continue to promote the debut album through online festivals and with the launch of web clips. For the next year, the band anticipates that it will surprise the public with new material.
Follow Hamen and stay tuned!
Facebook: https://www.facebook.com/hamenofficial/
Instagram: https://www.instagram.com/hamenofficial/
YouTube: https://www.youtube.com/hamenofficial