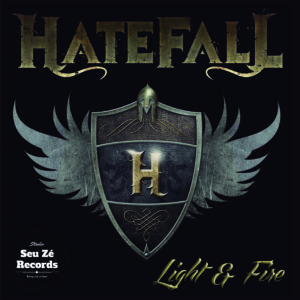 This is an EP of such delicate textures. "Light & Fire" is an effort which features a neat instrumental and great singer. "Avalon (The Bastard Son of Avalon)" is very delicate piece as a crystal glass with its celtic scent and acoustic instrumentals. A really beautiful song. Full of emotion, heart and passion. Listening to it carefully, one can noticed how skillful HateFall musicians are. HateFall are a band which care for bringing up to life sonances that stand out from the crowd. One can say it's not Metal at all. Well, tell that to Blind Guardian, Angra, Rhapsody, and the most well-known, Iron Maiden. If they're not Metal, I don't really know a band that really is. If I were you, I'd go right to "Avalon (The Bastard Son of Avalon)" first.
Some songs in "Light & Fire" do have a great taste of Iron Maiden,  but as we all know, so did Helloween, and many others. The real matter, and what really bothers to us, is the quality, and "Light & Fire" offers a great of it. "For Grace and Glory" opens "Light & Fire" up with a great deal of sweet and delicate textures with acoustic guitars and a voice that reminds a lot Blaze Bayley. A catchy leading riff takes over to bridge up to an uptempo rhythm part. A song with a strong emotional content, and an interesting guitar solo embellished by a female voice. "Beyond The Darkness" is an epic instrumental that leads to an also epic track, "Sands fo Destiny." Both very inspired. Title track "Light & Fire" is the most strengthful of this EP. Pure piece of a real melodic heavy metal, but still with some grip, and lots of heart and passion. It's uptempo with an interesting chorus and catchy melodic structures.
Bottomline my dear reader, if you are in the mood for something else, here I present you HateFall and "Light & Fire." An album full subtle melodies and kind harmony, but the kind we heavy metallers like.
HateFall "Light & Fire." was released via Seu Zé Records.
Track Listing:
For Grace and Glory
Avalon (The Bastard Son of Avalon)
Beyond The Darkness
Sands of Destiny
Light & Fire
Watch "For Grace and Glory" official video here:
https://youtu.be/p_i462-izwQ