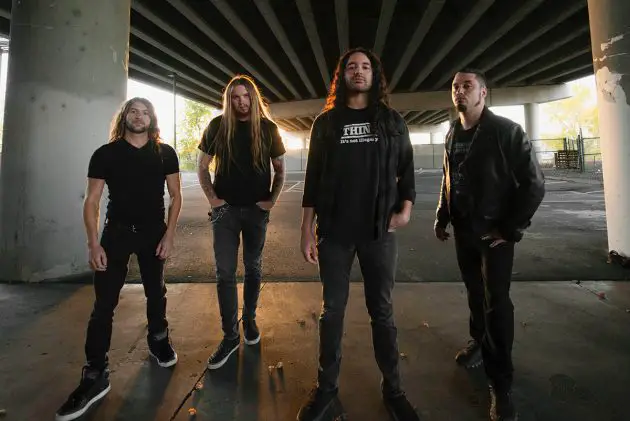 After returning from their successful European tour, HAVOK found out that their trailer was broken into with thousands of dollars worth of gear missing.
Band posted following statement on their Facebook page:
"Our European tour was a ton of fun! We'd like to thank Converge, Gorguts, Revocation, Fallujah, Venom Prison, and Amon Amarth for sharing the stage with us, as well as everyone who came out to these shows to support live music. Without the fans, there is no show.

"We returned home to some unfortunate news… Our trailer was broken into and our gear was stolen. The thieves broke our trailer door and got away with custom drums, cymbals, discontinued amplifiers, custom road cases, merchandise, and a new generator. This news hits us doubly hard because we already had expensive vehicle repairs to make before hitting the road this Thursday for the Metal Alliance Tour. This seems to be a kind of sadistic alignment of the stars that's left us high and dry, and we need help getting out of this hole.

"The band has dealt with major losses in the past, but always figured out a way to solve the problem on our own; this time it's overwhelming. Havok has never asked fans for financial help before, but if there was ever a time to do that – it is now. To be frank, we are boned, and we cannot afford to replace the gear that was stolen AND fix our vehicle. We tour our asses off and still aren't rich, by any means. This is the first time we are asking fans to donate to our cause of riffs and truth in the name of heavy metal.

"We are trying to raise $19,000 to replace the gear that was stolen and help with our vehicle maintenance. Touring is our lifeblood and without our gear and vehicle, we cannot do it.

"If you enjoy the music we make, or seeing us live, please consider making a donation. Every little bit helps. We have started a Venmo account where you can send donations easily online. (It only takes 1 minute to sign up.) https://venmo.com/havokband
(If Venmo is unavailable in your area, you can donate via PayPal : [email protected]yahoo.com)

"We would like to thank you in advance for sharing this, spreading the word, and supporting Havok. Without fans we are nothing, and we know that.

"Love, wisdom, and riffs to you,

"-HAVOK"
If you want to help the band, you can use Venmo or donate via PayPal to [email protected]yahoo.com.