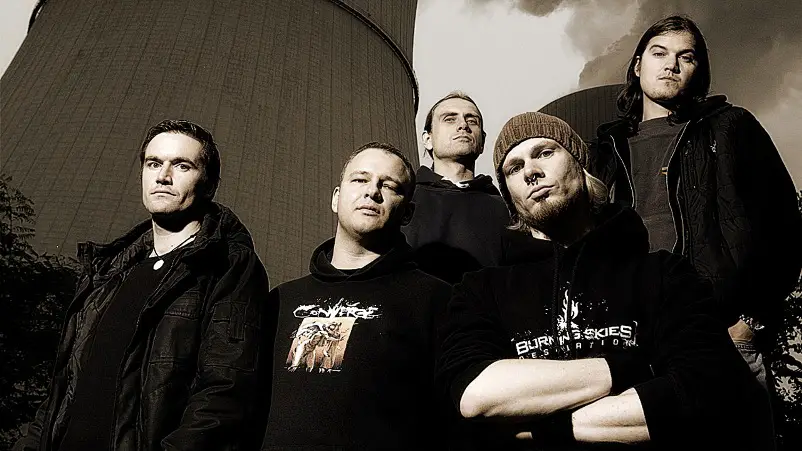 HEAVEN SHALL BURN open the visually stunning booklet for their eighth studio album, "Wanderer", with a quote which sums up the overall idea of the album:
During confusing and troubled times you occasionally need to retreat from all the madness that surrounds you. This allows you to gain new perspective, energy and focus, so that you can attack change with a refreshed and strengthened mindset. Modern life has become so complex that sometimes choosing simplicity and solitude can give you the strength to conquer the chaos around and within you. "Wanderer" isn't merely offering interesting historical and political stories, but also serves as a travelogue of a journey into one's inner self. A search for a safe haven for our daily stress as well as an outlet for negative feelings and aggression. For its breathtaking artwork, HEAVEN SHALL BURN sent their friend and photographer Christian Thiele on a quest and asked him to capture the beauty of mountains, plains and shorelines. Once again the album was produced by guitarist Alexander Dietz and co-produced by guitarist Maik Weichert. While the drums were tracked by Eike Freese at Chameleon Studios in Hamburg, the rest of the album was recorded at Dietz's own Chemical Burn Studios in Bad Kösen. Tue Madsen mixed and mastered "Wanderer" at Chemical Burn Studios as well as at his Antfarm Studios in Aarhus, Denmark.
In addition, the band have unveiled the first single from the album, 'Downshifter', which you can hear below.
The track listing of "Wanderer" is as follows:
1. The Loss Of Fury
2. Bring The War Home
3. Passage Of The Crane
4. They Shall Not Pass
5. Downshifter
6. Prey To God
7. Agent Orange (not available on the standard jewel-case and standard digital album)
8. My Heart Is My Compass
9. Save Me
10. Corium
11. Extermination Order
12. A River Of Crimson
13. The Cry Of Mankind
The following formats will be available:
Ltd. Deluxe 3CD Artbook
Ltd. 2CD Mediabook
Ltd. 2CD Digipak (North America only)
Standard CD Jewelcase
Gatefold 2LP+CD
Digital Album (Deluxe Edition)
Digital Album
The Ltd. 2CD Mediabook and Ltd. 2CD Digipak (North America only) both come with an extended 40-pages booklet.
For the "Too Good To Steal From" bonus CD the band compiled all cover versions they had ever recorded since initially signing with Century Media Records in 2003.
The luxurious coffee table Artbook comes with an extended 60-page booklet as well as the "Too Good To Steal From" CD. On top of all that, fans get an alternative mix, entitled the "Dark Purity Mix", of all original songs done by Eike Freese at Chameleon Studios, Hamburg.
The first preorders are already online.
A wide variety of bundles are available via Impericon including a special boxed set: https://smarturl.it/HSB-wanderer