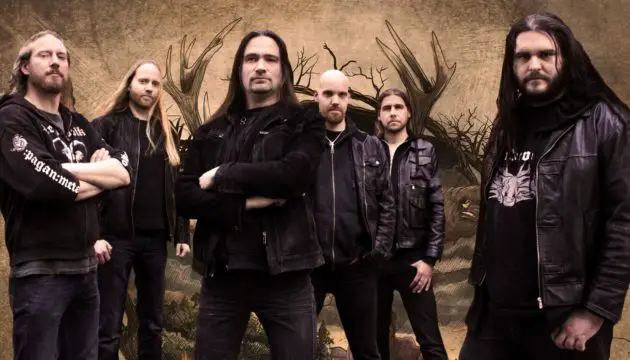 After having released details of their forthcoming HEIDEVOLK album including the title, artwork, track listing and release date, it's time to get a first listen to the new record!
The first track of the record as well as first single to be released is "Ontwaakt" (awaken), the band gives a deeper insight of the track and story behind: "Awaken, the Roman Empire is falling! The internal battle for power tears the Empire apart. Legions turn against each other, emperors bleed and Rome burns. It is time for the tribes of the Northern lands to unite and rise against the tyrant. To take back what is theirs and drive the invaders back to Rome. Every battle that is fought by my people resounds in Rome. With sword and shield the Empire will be banished and the voice of my people will be heard!"
Furthermore songwriter Rowan Roodbaert comments: "Ladies and gentlemen, brothers and sisters, we proudly present the first single of our new album. This is "Ontwaakt" ("Awaken"), the opening track of "Vuur Van Verzet". An in-your-face metal song that tells the ageless story of revolt and resistance set against the backdrop of the historic collapse of the Roman empire. Heavy guitars, thundering drums and Heidevolks' trademark dual vocal harmonies will catapult you back in time. Imagine a battlefield where Romans are being pushed back by Germanic warriors. Well, this is the soundtrack. Now awaken, the Pagan Metal Brotherhood is on the rise!!!"
"Vuur van Verzet" is set to be released on January 12th 2018 – what a perfect start in the New Year! In case you missed the latest news on track listing and available formats, take a look below and get your exclusive pre-order!
Full "Vuur van Verzet" track listing:
1.    Ontwaakt
2.    A Wolf In My Heart
3.    Onverzetbaar
4.    Yngwaz Zonen
5.    Britannia
6.    The Alliance
7.    Tiwaz
8.    Het Oneindige Woud
9.    Gungnir
10.    Woedend
11.    Het Juk der Tijd
12.    Drink op de Nacht (Bonus Track)
13.    Een Wolf in mijn Hart (Bonus Track)