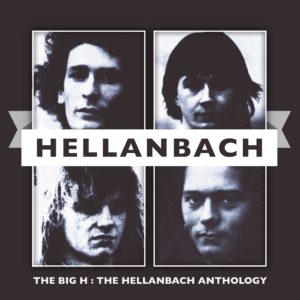 While some people are into a discussion if it is worth to still release CDs, Dissonance Records decided to reissue the two cd anthology of Hellanbach, a band that had their moments of fame in the mid 1980s.
Hellanbach deserve the title of New Wave of British Heavy Metal's answer to Van Halen. But Hellanbach are much more than that. The band, albeit the well deserved title, were able to conquer their own space. Their compositions are much more than a Van Halen remembrance due to a very personal voice and an uptempo guitar work. This Hellanbach Anthology shows the many moments of a band that dared to play a music that even in the 1980s was not so common. There are many moments of a rock'n'roll boogie  woogie sound that bands like Saxon and Accept experimented in their efforts. Besides Saxon, does anyone know a metal band that uses a whistle in their songs? That is Hellanbach in "All Systems Go," an uptempo tune with all the guitar embelishments that were very well appreciated, and still are.
Useless to say that "The Big H – The Hellanbach Anthology" is an effort which praises a very well played and captivating guitar playing. Dave Patton is the name of the axe hero. The guy really knows how to shred. If you are a guitarist, pay close attention to his playing. His repertoire of riffs and guitar effects is almost infinite. Of course, the comparisons with Mr. Edward Van Halen come naturally. His flamboyant way of playing is unique. Maybe that is why Hellanbach popularity slowly diminished until the band parted ways. Very few noticed though.
But forget the natural comparisons and enjoy this "The Big H – The Hellanbach Anthology" as a very well played metal effort. Bang your head hard with their hard rock/metal tunes. Lots of fun guaranteed.
Hellanbach "The Big H – The Hellanbach Anthology" will be released on February 09th via Dissonance Records.
Track Listing:
CD1
Out To Get You
Light Of The World
Let's Get This Show On The Road
Nobody's Fool
All The Way (60 Min + Version)
All Systems Go
Dancin'
Times Are Getting Harder
Look At Me
All Systems Go (Full Scale Emergency) [Alternate Version]
Maybe Tomorrow
Motivated By Desire
Taken By Surprise
Let's Get This Show On The Road [Alternate Version]
Kick It Out
CD2
All The Way [Alternate Version]
Everybody Wants To Be a Cat
Beaten To The Bone
The Main Man
Nobody's Fool [Alternate Version]
Bandit's Run
S.P.G.C.
Saturday Nights Alright For Fighting
Panic State O.D.
Daddy Dig Those Cats
When All Is Said And Done
Urban Paranoia
Watch "All Systems Go (Full Scale Emergency)" official video here: