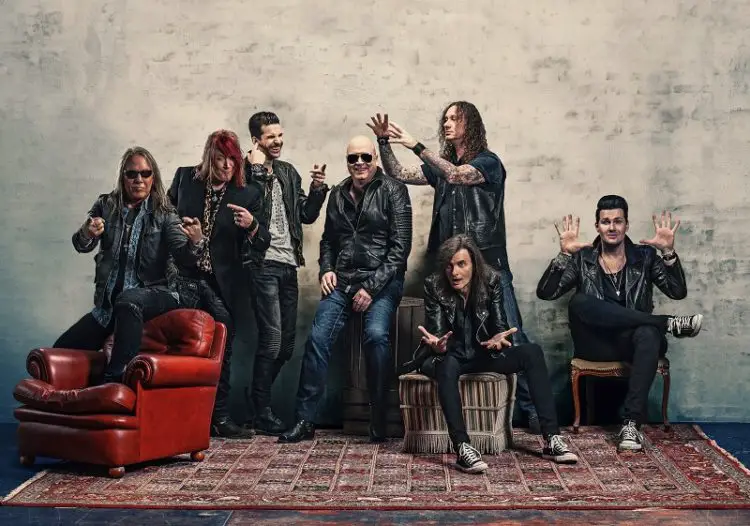 The reunited expanded classic lineup of German power metallers HELLOWEEN — featuring seven musicians, including former vocalist Michael Kiske and guitarist Kai Hansen alongside current singer Andi Deris and guitarist Sascha Gerstner — has captured "the very best moments" from its ongoing "Pumpkins United" world tour and will make the footage and recordings available as a live CD as well as on DVD and Blu-ray in early 2019. In addition, there will be a brand-new HELLOWEEN studio album featuring Kiske and Hansen. The band's songwriting trio of Michael Weikath, Hansen and Deris will retreat to the studio in 2019 to begin work on the disc, which is scheduled to arrive in 2020 via Nuclear Blast.
HELLOWEEN will tour North America in September, to be followed by additional dates in Latin America. The final "Pumpkins United" concert of 2018 will take place in Hamburg, right where all the madness started in 1984, at the legendary Sporthalle on December 22.
The "Pumpkins United" tour marks the first time Kiske has played live with HELLOWEENsince 1993. Hansen, who departed HELLOWEEN in 1988, has been joining the band onstage on various tours and festival appearances throughout the years. The set features several duets with Kiske and his replacement, Deris, along with many rarely played songs, including "Kids Of The Century", "Rise And Fall" and "Livin' Ain't No Crime". Hansen — who fronted HELLOWEEN until late 1986 — sings a medley of several early HELLOWEEN classics, including "Ride The Sky", "Judas", "Starlight" and "Heavy Metal (Is The Law)".