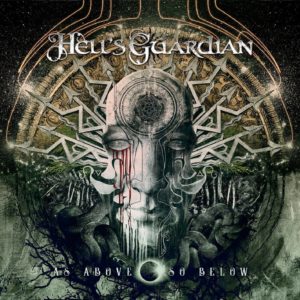 On my last review I mentioned the fact that Melodic Death Metal was everything we expect from a Metal style due to its roots to violence and aggression mixed to melodic guitar interventions. In fact, the band I was right about was stoner… But now I nailed it! I mean everything I wrote there to Hell's Guardian "As Above So Below." 
Music is largely appreciate due to its capacity if making people feel strong emotion and melodeth is full of emotion. Hell's Guardian give their contribution to the Metal world writing an album has a great deal of it. From head to toe, "As Above So Below" is an exuberant display of how Heavy Metal can synthesize in few minutes human emotions. Hell's Guardian give us eleven reasons to go on believe that Melodic Death Metal still have enough reasons to continue existing and to be a bright representant of Metal uniqueness.
Hell's Guardian were uniquely able to melt into their music elements taken from Speed and Power Metal which were mixed with Death Metal to surprise us with one of the most thrilling albums we are to hear. However, many may say "As Above So Below" is simply more of the same. No, one would incur an error to say that. All vocal duets with amazing guitar interventions make "As Above So Below" as unique as it is possible. "Crystal Door," "As Above So Below," "Blood Must Have Blood" are a hell of sequence of tracks.
I'm not sure if the word syncretism apply to the moment Metal is living these days, or even if it is allowed to use the term, but bands like Hell's Guardian are examples of the musical syncretism Metal is on. In a track like "90 Days" it's possible to identify many Metal hardcore features. Bands are putting all Metal influences together and making something unique, that's what I mean. We're living a moment when Metal looks deep into itself and bring out everything that was built in those almost fifty years of Metal movement. When you do that and merge some modern features, you have the new music everybody is eager for.
Hell's Guardian are the future of Metalkind.
Hell's Guardian "As Above So Below" was released on September 14th.
Track Listing:
Over The Line 01:40 (instrumental)
Crystal Door
As Above So Below
Blood Must Have Blood
Waiting… For Nothing 01:15
90 Days
Lake of Blood
Jester Smile
My Guide My Hunger (feat. Adrienne Cowan & Marco Pastorino)
I Rise Up
Colorful Dreams (feat. Ark Nattlig Ulv)
Watch "My Guide, My Hunger" official video here: