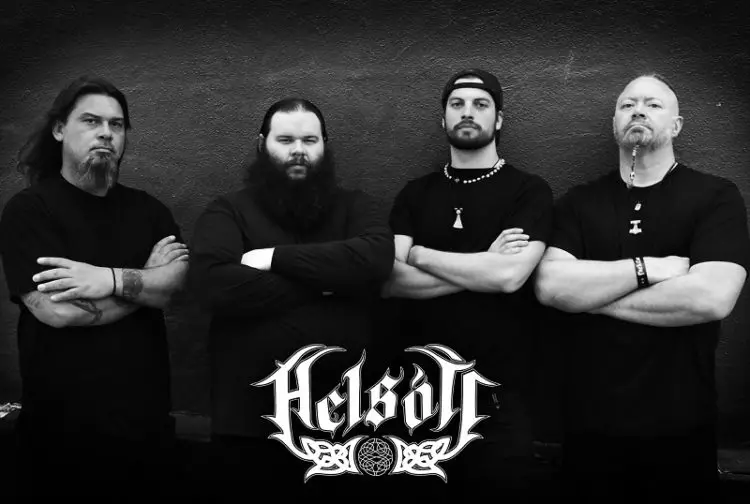 The California-based pagan metal group HELSOTT will release their second full-length album, "Slaves And Gods," on Oct. 12. The follow-up to the group's M-Theory Audio debut, the acclaimed 2017 EP "The Healer," sees the band continue to mix folk metal, death metal, symphonic metal, classical and rock to stirring effect, but this time around, they've recruited some notable allies to help fight the good fight.
Guests on the new album include Masha Scream (Arkona), Lazar (Arkona), Dr. Leif Kjonnsfleis (TrollfesT), Trollmannen (TrollfesT), Damna (Elvenking), Lethien (Elvenking), Dom Crey (Equilibrium) and Kevin Storm, who join vocalist Eric Dow, drummer Cooper Dustman and returning guitarist Mark Dow on 10 tracks of rollicking battle cries. A lyric video for the title track, designed by Rafael Ortega of Ecliptic Visions, can be seen below. The song can also be streamed on Spotify, Apple Music and other providers.
The cover art for "Slaves And Gods" (see below) was designed by Felipe Machado Franco (Iced Earth, Blind Guardian, Rhapsody of Fire), who also contributed the cover for "The Healer." The album was mixed and mastered by J-F Dagenais (Kataklysm, Misery Index, Despised Icon). Physical copies on CD and limited-edition blue/clear haze vinyl can be pre-ordered via the M-Theory Audio webshop, while digital pre-orders – which include an instant download of the title track – are now underway via Bandcamp, iTunes and Amazon.
Says Dow, "We are proud to present the first video and single for the self titled track off of our new album 'Slaves and Gods.' The hard work that we put in on this record is immeasurable, and we feel like this track represents everything that we have worked for in the past eight-plus years. This song features Dr. Leif from TrollfesT on guitar and is an absolute crusher! Raf with Ecliptic Visions took Felipe Machado Franco's art and our song and created a very entertaining experience. Crank it up!"
"Slaves And Gods" track listing:
1. Slaves and Gods (feat. Dr. Leif Kjonnsfleis and Bjorn Friedrichsen)
2. The Coward's Curse (feat. Kevin Storm and Bjorn Friedrichsen)
3. Winter Smells Like Death (feat. Masha Scream, Lazar and Bjorn Friedrichsen)
4. Whiskey Breath (feat. Bjorn Friedrichsen)
5. Eye of the Past (feat. Damna, Dom Crey, Kevin Storm and Bjorn Friedrichsen)
6. Trollskald (feat. Trollmannen, Kevin Storm and Bjorn Friedrichsen)
7. Zep Tepi
8. Return Hyperborea
9. Honour Thy Valkyrie
10. Runnin' Down a Dream (Tom Petty cover feat. Lethien)