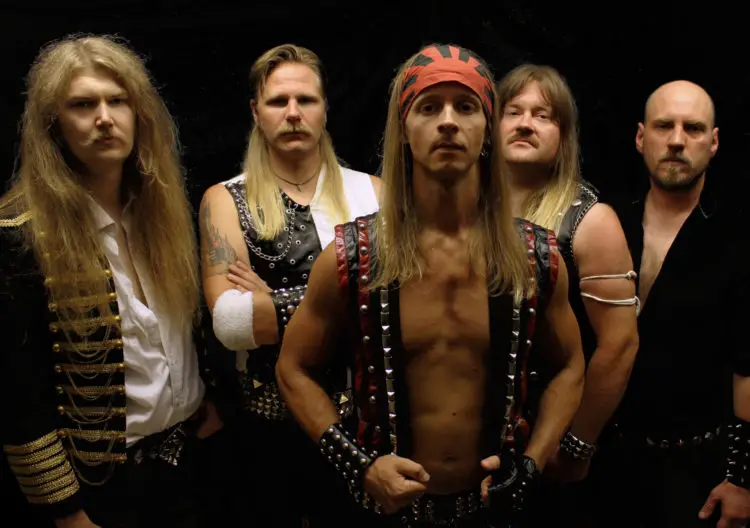 It's been a while. "Exodus To Hell," HELVETETS PORT's debut album, was issued in 2009, the 12" EP "Man With The Chains" a year later. Almost a decade on, Gothenburg's finest are about to issue their second album "From Life To Death" on High Roller Records.
Lead singer Witchfinder explains the long gap between the two records:
"The last show before the hiatus was in December 2011, and then we got going again in 2014. So in reality the break wasn't super long, even though it seems that way given the time between releases. The band was never officially over, but I guess we kind of needed a break and then a fresh start."
Not surprisingly, in the interim between 2010 and 2019 there have been a few line-up changes:
"Yes, in 2015 Virgin Killer joined on guitar, and Witchfinder started doing vocals only. Then in 2018 Inquisitor quit the band and Earthquake took over on bass."
If you compare the 14 songs on "From Life To Death" with the band's debut "Exodus To Hell," the difference couldn't be more evident: HELVETETS PORT in 2019 is a much more accomplished band. Singer Witchfinder explains in more detail:
"When we got back together again in 2014, we started gathering some material for an album and began writing some new stuff. Two of the songs were written around 2008 and there are some old parts used for other songs. Most of the material was written around 2014-2016. It's kind of a wrapping up of our entire career thus far. Musically "From Life To Death" is geared towards the medieval, epic style so to speak, which inevitably also reflects in much of the lyrics. And visually, as you can see, it's an Egyptian theme, which also applies to a couple of the songs."
Musically it's also a much more adventurous and more versatile record. Will the fans cherish HELVETETS PORT's new approach? Witchfinder thinks so:
"The wonderful thing about classic 80s heavy metal, narrowed-down as the words may seem, is that it can have so many different facets and still not stray from the path. As long as you are into the genre, you find that it's very versatile. And with a profound understanding of it, you can branch out and never lose the spirit."
When HELVETETS PORT originally started out, bands like RAM, Enforcer, Skull Fist, let alone High Spirits or Night Demon, did not even exist. So would it be fair to say that HELVETETS PORT were one of the originators of the return of traditional heavy metal in the second millennium? Witchfinder believes so:
"At least from what I could gather there were no bands around the year 2000 that played the classic heavy metal style that adamantly. That was also a driving force behind starting the venture in the first place. Kind of: 'This is the best music, why isn't anyone playing it? What are you guys THINKING?'"
Read our review here.