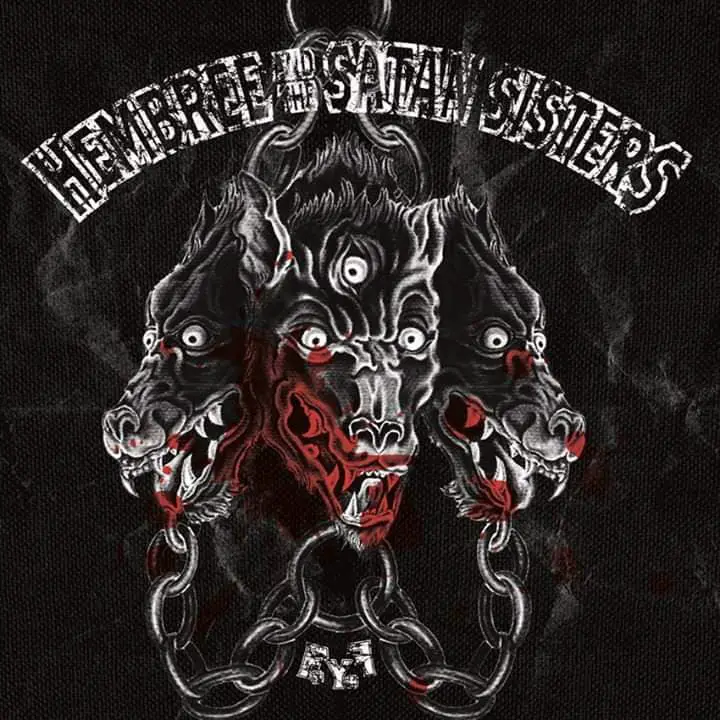 I have been waiting for this album for a very long time and begging Zachery Hembree to let me review if for at least a year. I could have probably reviewed it from the many times I have seen them live. I already know most of the lyrics. The album starts with Commentary from THE long-haired weirdo himself, ANTISEEN frontman Jeff Clayton. I am probably not supposed to know who it is, but I am friends with Jeff on Facebook and it's unmistakable to me, and then proceeds to kick your teeth out in the most beautiful way possible to a punk rock music lover. The mix is perfect, as it should be because it was produced by Jay Rodgers, Zachery Hembree, and Ash Miltiades but mixed and mastered by Grammy award winner Warren Riker.
The first song is called F**k Your Religion and F**k Your Politics. It's a cooker that calls everyone out. After the 49 seconds, you know that you probably shouldn't try to bring up either of those subjects to these guys. My favorite lyric is "You white power idiots can suck my f**king d**k. F**k your religion and f**k your politics, yea. The left is never right and the right is always wrong. F**k your religion and f**k your politics and f**k you." It will have you banging your head with your middle fingers in the air every time you hear it. Trust me. It's my favorite track for sure.
The second is a bit darker as this album is all over the place, which I love. It's a scorcher called A Devil's Warning. It has a driving beat and a fat f**king riff and vocals that I wish I could scream at a lot of folks daily. Very relatable and bad*ss. The vocals go from nonclean belting to clean and back again, and it's seamless. Very well written and played, but this whole album is and they pull it off without a hitch live every time I see them. Ash Miltiades' lead is blistering as well.
The third is called Say It To My Face. It's relatable for sure to me because I have to deal with a sh*t ton of keyboard warriors. It's very straight forward and asks that you "Say it to my face motherf**ker." and goes through the normal insults the little b*tches throw at you online but would never say right in your eye if you were standing in front of them face to face and I love it. My second favorite off of this release.
Nothing To Prove is the fourth track and has an awesome backing vocal harmony that is rather chilling, to be honest. It's a statement of "I might suck, but not as much as you" and we've all had that little insult thrown at us. I mean if you are going to try to insult me, try to come up with something original. This gets the point across nicely and there isn't a bad song on this thing man.
Rape This Land is the fifth track and starts balls out and gallops like a warhorse with a rider planning to do just that. If Vikings wrote and sang punk songs this would be a wartime favorite as it destroys all the way through just like every other song on this album with the exception of the next track, but I'll get to that in a second.
The sixth track is Dancin' At Your Suicide and it comes out of nowhere sounding like it may be a love song if you weren't looking at the name and lyric sheet but just give it a few seconds. It goes straight to being what you thought. I can think of several folks I want to play this for but I would never do that, maybe… This song rocks out with fervor that you weren't expecting after the first few bars.
The seventh track is called Who's Laughing Now and is another frier that'll melt your face and hurt your little feelings. I have heard this one over and over as it was the first single released from the album. It starts "It started as a joke, you were laughing so damn loud. Your blood's all around. You're dead on the ground." It's just a friendly reminder that you should be careful when you make fun of people because you never know what folks are dealing with and you might just have to take a beat down, or worse, that wasn't even supposed to be yours.
There is another commentary from the GodFather, Jeff Clayton, just letting you know that he warned you and it's time for you and your butthurt to go. But wait! There's more!
The last thing you are going to hear on this album is acoustic Zachery Hembree just reminding you that he meant everything he said on this album and that F.Y.F stands for F**K YOUR FEELINGS!
I love this album and it's one of those that I can listen to over and over without ever skipping a song and those are very rare for me folks. This gets a fifteen out of ten and I have never rated an album higher than eleven out of ten when asked to review it. Check out the single and official video they have released below.
The album drops September 21st via https://www.rustyknucklesmusic.com/collections/hembree-and-the-satan-sisters?fbclid=IwAR2ok8wtoz7RkNTdqecOyVPD7erK-zrGnaXcHVYtDfDyh2YMnNT6rXSA5RQ and there are preorders for vinyl available that are limited to only 100 pressed in transparent green. You can like the band @ https://www.facebook.com/HembreeandTheSatanSisters/ from which you can purchase show tickets and merch bundles as well including belt buckles, so now I have to buy a belt with either no buckle or a removable one…
HEMBREE & THE SATAN SISTERS are Zachery Hembree, Parker Bradshaw, Charlie Ferlito, and Ash Miltiades.