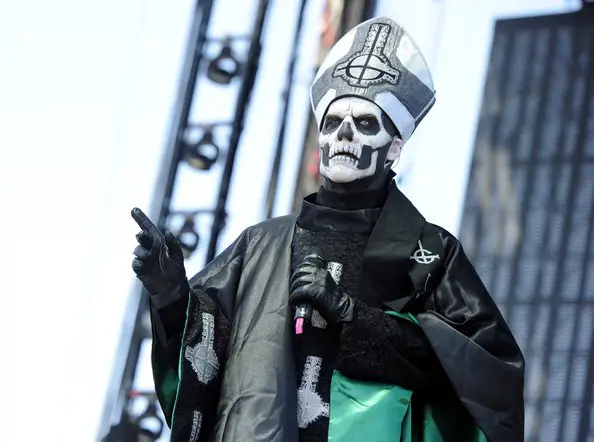 Folks from Loudwire have ranked every GHOST song from worst to best.
Loudwire stated: "GHOST have never made the same album twice, creating an "apples and oranges" situation. Comparing the raw occult power of "Con Clavi Con Dio" to the flamboyant "Pro Memoria" is a twisted task we challenged ourselves to complete, so with 37 total songs to deconstruct, let's walk the left-hand path from least to most glorious."
List can be seen below. For comments on each song, check original article.
37. "Jigolo Har Megiddo" – 'Infestissumam' (2013)
36. "Depth of Satan's Eyes" – 'Infestissumam' (2013)
35. "Pro Memoria" – 'Prequelle' (2018)
34. "From the Pinnacle to the Pit" – 'Meliora' (2015)
33. "Mummy Dust" – 'Meliora' (2015)
32. "Life Eternal" – 'Prequelle' (2018)
31. "Absolution" – 'Meliora' (2015)
30. "La Mantra Mori" – 'Infestissumam' (2013)
29. "Helvetesfönster" – 'Prequelle' (2018)
28. "Body and Blood" – 'Infestissumam' (2013)
27. "Death Knell" – 'Opus Eponymous' (2010)
26. "Majesty" – 'Meliora' (2015)
25. "Faith" – 'Prequelle' (2018)
24. "Zenith" – 'Meliora' (2015)
23. "Satan Prayer" – 'Opus Eponymous' (2010)
22. "Witch Image" – 'Prequelle' (2018)
21. "See the Light" – 'Prequelle' (2018)
20. "Genesis" – 'Opus Eponymous' (2010)
19. "Deus in Absentia" – 'Meliora' (2015)
18. "Idolatrine" – 'Infestissumam' (2013)
17. "Spirit" – 'Meliora' (2015)
16. "Infestissumam" / "Per Aspera ad Inferi" – 'Infestissumam' (2013)
15. "Prime Mover" – 'Opus Eponymous' (2010)
14. "Miasma" – 'Prequelle' (2018)
13. "Deus Culpa" / "Con Clavi Con Dio" – 'Opus Eponymous' (2010)
12. "Secular Haze" – 'Infestissumam' (2013)
11. "Dance Macabre" – 'Prequelle' (2018)
10. "Stand by Him" – 'Opus Eponymous' (2010)
9. "Monstrance Clock" – 'Infestissumam' (2013)
8. "Elizabeth" – 'Opus Eponymous' (2010)
7. "Ghuleh / Zombie Queen" – 'Infestissumam' (2013)
6. "He Is" – 'Meliora' (2015)
5. "Rats" – 'Prequelle' (2018)
4. "Ritual" – 'Opus Eponymous' (2010)
3. "Year Zero" – 'Infestissumam' (2013)
2. "Cirice" – 'Meliora' (2015)
1. "Square Hammer" – 'Popestar' (2016)