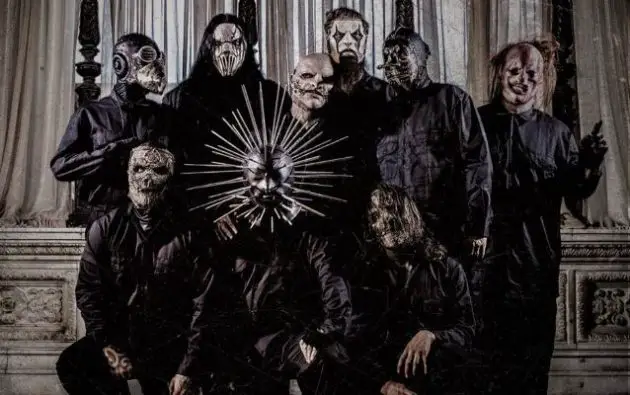 Loudwire have ranked every SLIPKNOT song from worst to best.
Loudwire stated:
No matter which way you slice it, this list is bound to piss off Maggots left and right, but so be it. Throughout two decades, Slipknot have compiled a discography that has firmly cemented them as not just one of the greatest metal bands of all time, but as one of the greatest bands ever—regardless of genre.
List can be seen below. For comments on each song, check original article.
74. "Gehenna" – 'All Hope Is Gone' (2008)
73. "Wherein Lies Continue" – 'All Hope Is Gone' (2008)
72. "Vendetta" – 'All Hope Is Gone' (2008)
71. "Lech" – '5 The Gray Chapter' (2014)
70. "Butcher's Hook" – 'All Hope Is Gone' (2008)
69. "XIX" – '5 The Gray Chapter' (2014)
68. "This Cold Black" – 'All Hope Is Gone' (2008)
67. "Prelude 3.0" – 'Vol. 3 (The Subliminal Verses)' (2004)
66. "Override" – '5 The Gray Chapter' (2014)
65. "Child of Burning Time" – 'All Hope Is Gone' (2008)
64. "The Burden" – '5 The Gray Chapter' (2014)
63. "The One That Kills the Least" – '5 The Gray Chapter' (2014)
62. "AOV" – '5 The Gray Chapter' (2014)
61. "Danger – Keep Away" – 'Vol. 3 (The Subliminal Verses)' (2004)
60. "If Rain Is What You Want" – '5 The Gray Chapter' (2014)
59. "The Virus of Life" – 'Vol. 3 (The Subliminal Verses)' (2004)
58. "Three Nil" – 'Vol. 3 (The Subliminal Verses)' (2004)
57. "Skeptic" – '5 The Gray Chapter' (2014)
56. "Gematria (The Killing Name)" – 'All Hope Is Gone' (2008)
55. "Nomadic" – '5 The Gray Chapter' (2014)
54. "Metabolic" – 'Iowa' (2002)
53. "Welcome" – 'Vol. 3 (The Subliminal Verses)' (2004)
52. "Goodbye" – '5 The Gray Chapter' (2014)
51. "The Shape" – 'Iowa' (2002)
50. "Scissors" – 'Slipknot' (1999)
49. "Circle" – 'Vol. 3 (The Subliminal Verses)' (2004)
48. "Til We Die" – 'All Hope Is Gone' (2008)
47. "Sarcastrophe" – '5 The Gray Chapter' (2014)
46. "Prosthetics" – 'Slipknot' (1999)
45. "Sulfur" – 'All Hope Is Gone' (2008)
44. "Custer" – '5 The Gray Chapter' (2014)
43. "Gently" – 'Iowa' (2002)
42. "Get This" – 'Slipknot' (1999)
41. "Don't Get Close" – 'Vol. 3 (The Subliminal Verses)' (2004)
40. "Killpop" – '5 The Gray Chapter' (2014)
39. "Diluted" – 'Slipknot' (1999)
38. "New Abortion" – 'Iowa' (2002)
37. "Scream" – 'Vol. 3 (The Subliminal Verses)' (2004)
36. "Skin Ticket" – 'Iowa' (2002)
35. "Iowa" – 'Iowa' (2002)
34. "Only One" – 'Slipknot' (1999)
33. "Tattered & Torn" – 'Slipknot' (1999)
32. "Eeyore" – 'Slipknot' (1999)
31. "Opium of the People" – 'Vol. 3 (The Subliminal Verses)' (2004)
30. "The Blister Exists" – 'Vol. 3 (The Subliminal Verses)' (2004)
29. "Dead Memories" – 'All Hope Is Gone' (2008)
28. "The Nameless" – 'Vol. 3 (The Subliminal Verses)' (2004)
27. "All Hope Is Gone" – 'All Hope Is Gone' (2008)
26. "All Out Life" (2018)
25. "Snuff" – 'All Hope Is Gone' (2008)
24. "Vermillion Pt. 2" – 'Vol. 3 (The Subliminal Verses)' (2004)
23. "Vermillion "- 'Vol. 3 (The Subliminal Verses)' (2004)
22. "Everything Ends" – 'Iowa' (2002)
21. "Before I Forget" – 'Vol. 3 (The Subliminal Verses)' (2004)
20. "Liberate" – 'Slipknot' (1999)
19. "I Am Hated" – 'Iowa' (2002)
18. "Psychosocial" – 'All Hope Is Gone' (2008)
17. "The Devil in I" – '5 The Gray Chapter' (2014)
16. "Purity" – 'Slipknot' (1999)
15. "Me Inside" – 'Slipknot' (1999)
14. "The Negative One" – '5 The Gray Chapter' (2014)
13. "Wait and Bleed" – 'Slipknot' (1999)
12. "Left Behind" – 'Iowa' (2002)
11. "No Life" – 'Slipknot' (1999)
10. "(sic)" – 'Slipknot' (1999)
9. "Pulse of the Maggots" – 'Vol. 3 (The Subliminal Verses)' (2004)
8. "My Plague" – 'Iowa' (2002)
7. "Spit It Out" – 'Slipknot' (1999)
6. "Eyeless" – 'Slipknot' (1999)
5. "People = Sh*t" – 'Iowa' (2002)
4. "Disasterpiece" – 'Iowa' (2002)
3. "The Heretic Anthem" – 'Iowa' (2002)
2. "Surfacing" – 'Slipknot' (1999)
1. "Duality" – 'Vol. 3 (The Subliminal Verses)' (2004)