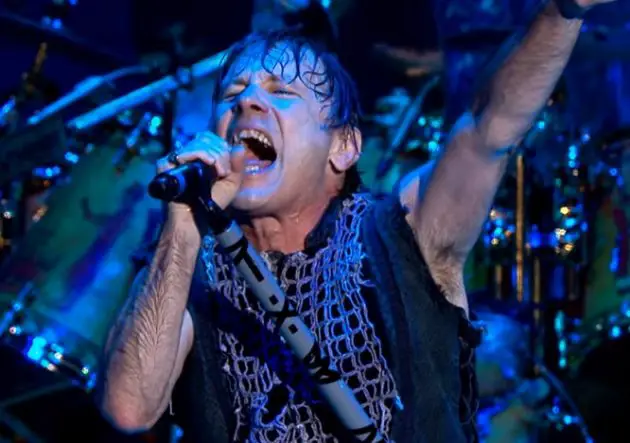 The latest Boxscore report offered a detailed insight into the summer leg of IRON MAIDEN's "Legacy of the Beast" tour, with gross earnings and attendance figures from multiple shows.
As you can see below, the trek's highest-earning date saw the heavy metal legends gross nearly $5 million from a single concert. Almost every other show in the report has managed to rake in more than $1 million, you can check out the exact figures below.
The concept for the "Legacy Of The Beast" tour was inspired by MAIDEN's mobile game and comic book of the same name and the stage set design featured a number of different but interlocking "worlds" with a setlist covering a large selection of 1980s material with a handful of surprises from later albums to add diversity.
IRON MAIDEN's earnings and attendance from European summer 2018 tour dates:
Artist: Iron Maiden, Killswitch Engage
Venue: Madrid, Spain – Wanda Metropolitano
Date: July 14, 2018
Gross Sales: $4,797,916
Attendance/Capacity: 48,689 / 48,689
Ticket Prices: $151.88, $99.31
Artist: Iron Maiden, Killswitch Engage
Venue: Hannover, Germany – Messe-Gelände
Date: June 30, 2018
Gross Sales: $2,311,161
Attendance/Capacity: 30,000 / 30,000
Ticket Prices: $77.09, $73.59
Artist: Iron Maiden, Killswitch Engage
Venue: Paris, France – AccorHotels Arena
Date: July 5-6, 2018
Gross Sales: $2,189,356
Attendance/Capacity: 30,794 / 30,794
Ticket Prices: $84.39, $58.61
Artist: Iron Maiden, Killswitch Engage
Venue: Krakow, Poland – Tauron Arena
Date: July 27-28, 2018
Gross Sales: $2,173,988
Attendance/Capacity: 30,617 / 30,617
Ticket Prices: $83.22, $20.67
Artist: Iron Maiden, Killswitch Engage
Venue: Arnhem, Netherlands – GelreDome
Date: July 1, 2018
Gross Sales: $1,646,254
Attendance/Capacity: 20,026 / 23,200
Ticket Prices: $84.39, $58.61
Artist: Iron Maiden, Killswitch Engage
Venue: Milan, Italy – Ippodromo
Date: July 9, 2018
Gross Sales: $1,444,708
Attendance/Capacity: 16,272 / 17,500
Ticket Prices: $113.05, $83.30
Artist: Iron Maiden, Killswitch Engage
Venue: Manchester, U.K. – Manchester Arena
Date: August 6, 2018
Gross Sales: $1,111,545
Attendance/Capacity: 14,758 / 14,758
Ticket Prices: $77.75, $64.80
Artist: Iron Maiden, Killswitch Engage
Venue: Stockholm, Sweden – Tele2 Arena
Date: June 1, 2018
Gross Sales: $2,926,064
Attendance/Capacity: 37,221 / 37,221
Ticket Prices: $184, $59
Artist: Iron Maiden, Killswitch Engage
Venue: Prague, Czech Republic – Letnany Airport
Date: June 20, 2018
Gross Sales: $2,314,576
Attendance/Capacity: 29,763 / 30,000
Ticket Prices: $87, $67
Artist: Iron Maiden, Killswitch Engage
Venue: Helsinki, Finland – Hartwall Areena
Date: May 28-29, 2018
Gross Sales: $2,072,080
Attendance/Capacity: 20,344 / 20,344
Ticket Prices: $263, $91
Artist: Iron Maiden, Killswitch Engage
Venue: Hannover, Germany – Expo Plaza
Date: June 10, 2018
Gross Sales: $1,678,755
Attendance/Capacity: 21,900 / 21,900
Ticket Prices: $77
Artist: Iron Maiden, Killswitch Engage
Venue: Berlin, Germany – Waldbuhne
Date: June 13, 2018
Gross Sales: $1,408,961
Attendance/Capacity: 15,757 / 17,000
Ticket Prices: $89
Artist: Iron Maiden, Killswitch Engage
Venue: Copenhagen, Denmark – Royal Arena
Date: June 5, 2018
Gross Sales: $1,394,397
Attendance/Capacity: 15,184 / 15,184
Ticket Prices: $104, $58
Artist: Iron Maiden, Killswitch Engage
Venue: Tallinn, Estonia – Saku Suurhall
Date: May 26, 2018
Gross Sales: $544,989
Attendance/Capacity: 8,284 / 8,284
Ticket Prices: $83, $59