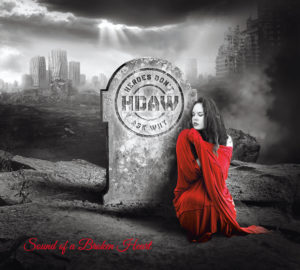 Life seems to read our feelings. Life is also funny. Sometimes we need to feel the confort of home. Some music that reminds that warm and cozy feeling of the past. The smell of your favorite food. The voice which brings you to the past, or to the present, whatever you need. That's actually the feeling with Heroes Don't Ask Why "Sound of a Broken Heart." Of course, you have the feeling of 'I heard it', but that's exactly what makes "Sound of a Broken Heart" so interesting. The Italian word, remember? Nostalgia.
I keep on thinking about names bands are choosing these days. Heroes Don't Ask Why isn't a bad name, but it's so long. Names have to be short, understandable. Well, but that's the trend these days. What really matters is that "Sound of a Broken Heart" sounds (hehehe) very well. Very cozy. Great songs with the perfect balance between aggression and melody. Metal music is this contrast of melody and aggression. By the way, that's why we keep on saying that we, metalheads, are very fortunate. We've got the best musicians at all. Hard to find out there this combination. Metal is full of it.
I rarely say something about art covers, but this one called the eye. Though it is also familiar, the chose of colors woks fine. Photos in black and white are charming. The girl sat in a tomb with a city in ruins down there is marvelous. Her red dress nakes all the difference. It reminds a lot Spielberg's "Schindler's List."
Though I said "Sound of a Broken Heart" sound familiar, Heroes Don't Ask Why are a band with strong personality. Bands have to be strong to face music industry these days. Metal music isn't forgiving. Believe me when I tell you.
Heroes Don't Ask Why "Sound of a Broken Heart" was released in April via Divorce Records.
Track Listing:
Poisoned Well
Twisted Paradise
15th of May
My Dear Friend
Wooden Box
Blink of an Eye
Sound of a Broken Heart
Watch "Sound of a Broken Heart" video here: