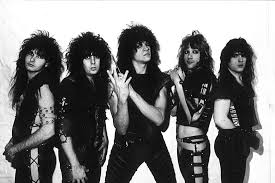 NY Metal band HITTMAN, will be re-issuing their classic debut, self titled album on No Remorse Records on October 31st, 2017, on the eve of the 30th anniversary of it's release in 1988. Also included as bonus material, will be the original 1985 demo, remixed and remastered faithfully to the original, making this the first time it will have been released officially in the digital medium – a real treat for fans who have most likely only have heard it as a copied cassette, widely traded  through the metal tape trading underground, often duplicated many generations, with tons of tape hiss, and degraded audio quality.
 The release will boast cleaner, more vivid re-imagined cover art (yet still 100% faithful to the original) and will be accompanied by a generous booklet of 24 pages containing never seen photos, articles and other anecdotes, as well as liner notes by the underground press' first real champion of the band, Kerrang and Metal Forces journalist Dave Reynolds. Dave took to the band early on, and was always an ardent supporter.
 The band is also working on new material for a 2018 album, slated for official release at the the Keep It True Festival in Lauda-Königshofen, Germany, where the band will perform its official reunion show, including all 4 surviving original members : Dirk Kennedy (vocals), Jim Bacchi (pka Bachi – guitars), Chuck Khoury (pka Kory – drums) and John Inglima (pka Kristen – guitars). Bassist Mike Buccellato (pka Buccell) passed away tragically in 2013 and the band, still a tight knit family, decided to re-unite, partially, to pay tribute to his honor, but also to commemorate the 30th anniversary of the release of "HITTMAN." The album (and demo), still coveted by many fans of traditional, classic and power metal, has been kept alive by unofficial bootlegs, and social media, and the band decided now was time to do an official re-release and present the best possible result.
You can listen or share here.
Read our review here.