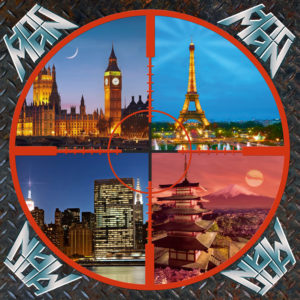 This is one more album to the series producer Bart Gabriel and No Remorse Records have been releasing for some time. As I said before, and I will say it again, we must praise this kind of attitude. There are zillions of great bands that could not accomplish their well-deserved 15 minutes of fame. They did not in their time, they cannot now. Enterpreneurs like that make the Metal world richer.
It is very difficult to say why a band like Hittman did not achieve their place in the Metal sun. This Hittman's debut album was largely tape exchanged during their time. Hittman were a hit in the underground – sorry for the quibble, but  could not resist. Who dares to know where to the winds of sucess blow?
Well, this so unfair reality was partially changed by this brand new release. Hittman is a neat album. I am not a grumpy old metaller who wishes to have Metal living the good old days again. In my opinion, Metal has always been in the good old days. But I do miss some of the finesse the 1980s bands had. And Hittman is an album full of finesses. To make you understand what I call finesse let's take for instance the opening track, "Metal Sports," which represents greatly the music in this album. "Metal Sports" pictures enormely what was used to be called American 1980s power metal. Reasonably fast tempo, a lot of drums fillings, chorded riffs, a very well tuned singer, and a guitar duo that do more than twin solos. "Metal Sports" is a very good representation of Hittman's music. The uptempo goes on with "Dead On Arrival." There is a little break with "Will You Be There?," which begins almost like a ballad. Undoubtedley the best performance of singer Dirk Kennedy and the vocal chorus. "Will You Be There?" is a song that goes on a crescendo to reach the top at the guitar solo, so eightish, to be fair enough.
Hittman, as their power metal peers, loved chorded guitar riffs. This is why they give more power to songs, besides giving the feeling of completeness to the sound . Vocal performances are also a highlight, not only singer Dirk Kennedy, but also the choruses. Hittman could have been a hit – sorry, the same quible again, but I coud not resist – but it was not. Maybe I can explain why. The original demo is from 1985, an year that Hittman's music was still fresh. But in 1988, when the album was released, it was not. There were lots of bands doing the same performances. And the worst, not only for Hittman but for many bands at that time, they were too heavy to the average hard rock listener, but too soft to the average thrash listener. Bands like Cirith Ungol, Lizzy Borden, Omen, and many others succumbed to that dualistic plague. Hittman's problem was timing, not musical.
Well, as there is nothing that time cannot heal, Hittman is back. For our thirsty ears for such finesse. Thansk again to Bart Gabriel and No Remorse Records who are doing an amazing job giving those bands a second chance.
This grumpy old man loved to met Hittman again. Hittman's debut album is available since October 31st via No Remorse Records.
Track Listing:
Metal Sport
Dead On Arrival
Will You Be There?
Breakout
Backstreet Rebels
Caught In The Crossfire
Secret Agent Man
Behind The Lines
The Test Of Time
Hittman Theme (1985 demo)
Metal Sports (1985 demo)
Sleepless Nights (1985 demo)
Live For Tomorrow (1985 demo)
Winds Of Warning (1985 demo)
Watch "Metal Sport" video here: