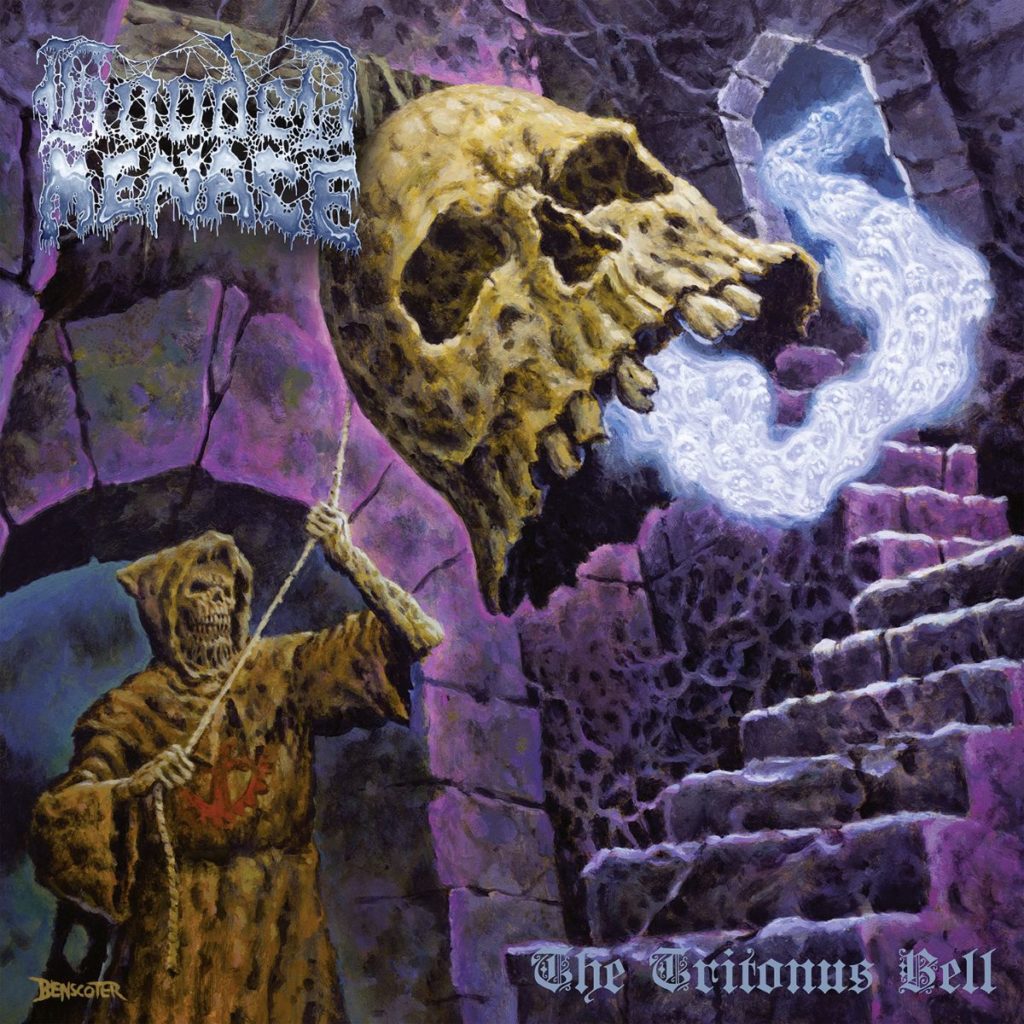 We all know many of the classic acts when it comes to the forefront of our minds when we consider death/doom from names like My Dying Bride, Paradise Lost, Katatonia, and several others, and we're very fortunate to be living in a time where we have almost just as many modern names that are able to deliver the same level of material that many of us have grown up with. It can easily feel like there isn't much more than can be done to make the style feel different from an innovation standpoint, but it truly is all in the hands of the bands to make the material feel as fresh as possible despite that adversity. As one of those modern names, Hooded Menace has quickly made a name for themselves for all the right reasons. Active for not even fifteen years, this band has become a modern legend with several wildly massive albums under their belt, and it's with their sixth full-length album that they've yet to show any signs of slowing down.
Right out of the gate, it's hard to dispute the excellence that Hooded Menace has created before today as anything other than staggering. They've been a constant and consistent source of heaviness, inspiration, and wondrous musicians that sprinkle a vast range of our playlists from even more death/doom to Finnish death metal to voracious thrash that continue to provide nothing but glory to this day, but there are few that can hold a candle to what has been accomplished by Hooded Menace and especially with the macabre grandeur that is "The Tritionus Bell". Imagine everything that has become synonymous with the very name of Hooded Menace, and rail that dial up to a hundred with the bone-crunching riffs, drawn-out solos that bring you as high into the sky as they can as low as the deepest depths of the Earth, melody that's more infectious than the sweetest candy, emotion that bleeds out of every note, an atmosphere that is nigh on enrapturing, and raw talent that simply cannot be put down. It's a true task not to sit down and gush over this record without being critical about it whatsoever with it being a work that will surely be hailed as an album of the year contender by many. "The Tritonus Bell" isn't just a convenient album from a band that does well every now and then, but, rather, yet another triumphant work that isn't just another addition to an already-illustrious discography but a shining jewel of all that the modern soundscape of death/doom is capable of. There have been plenty of moments where many have thought it but it is beyond important to put it in words and say it flat out: Hooded Menace is the modern powerhouse that many of us are constantly salivating for, and it's "The Tritonus Bell" that adds even more proof to that theory without shame, blemish, or misstep.
There have already been a lot of applause-worthy creations that have come out of the world of death/doom in just this year alone, and while it would be a tad hasty to crown this as the best without even so much as glancing at the competition, it's not hard to debate that possibility with all that is accomplished in these eight staggering tracks. The very essence of all that pours forth from "The Tritonus Bell" is what we could always use more of with all that it brings to the table, and it's only fitting that Hooded Menace would be the ones to deliver such excellence in high concentration.
"The Tritonus Bell" releases on August 27th via Season of Mist! You can pre-order "The Tritonus Bell" via Season of Mist here, and listen to the singles from the album on Bandcamp here.
Track Listing:
1. Cthonic Exordium
2. Chime Diabolicus
3. Blood Ornaments
4. Those Who Absorb The Night
5. Corpus Asunder
6. Scattered Into Dark
7. Instruments of Somber Finality
8. The Torture Never Stops – Bonus (WASP Cover)