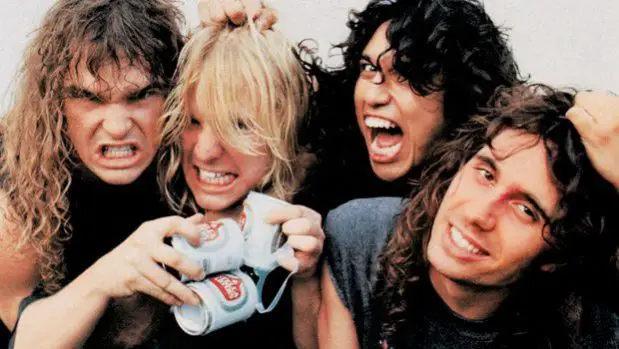 In a new interview with Ultimate-Guitar.com, former SLAYER drummer Dave Lombardo talked about the producer Rick Rubin and how he ended up working on band's classic album, 1986's Reign In Blood.
Rubin also handled the production duties on the group's staple records South of Heaven, Seasons in the Abyss, and more.
After interviewer asked Lombardo if he is the only who brought Rubin into the band, Dave responded: "Yes, there were rumors that this big producer for Columbia Records in New York was interested in the band. I don't know who gave me that information.
"It must have been one of the times we were in the northeast, someone must have told me something that stuck in my mind," he continued. "One day I brought it up to the guys in the band and they said, 'You know, we're signed to Metal Blade for several albums. I don't think we'll be able to get out of the contract.'
"You always hear that contracts are made to be broken. So I went ahead and contacted Rick Rubin. I first contacted Columbia Records and they told me I needed to call his office or his record company. I was a bit confused by that because I didn't understand record companies and their distributors. So Rick Rubin had Def Jam Records but he was distributed by Columbia.
"So they gave me the number and shortly after that I contacted him and I don't know how communication went from there after I contacted him, but he ended up coming to LA — him and Glen Friedman who was a punk rock photographer and producer at the time.
"They both came over to my mom and dad's house — they met me there," Lombardo added. "After that, we went to rehearsal and I introduced them to the guys. Next thing you know, he bought us out of the Metal Blade contract, and we were on our way to recording Reign in Blood."