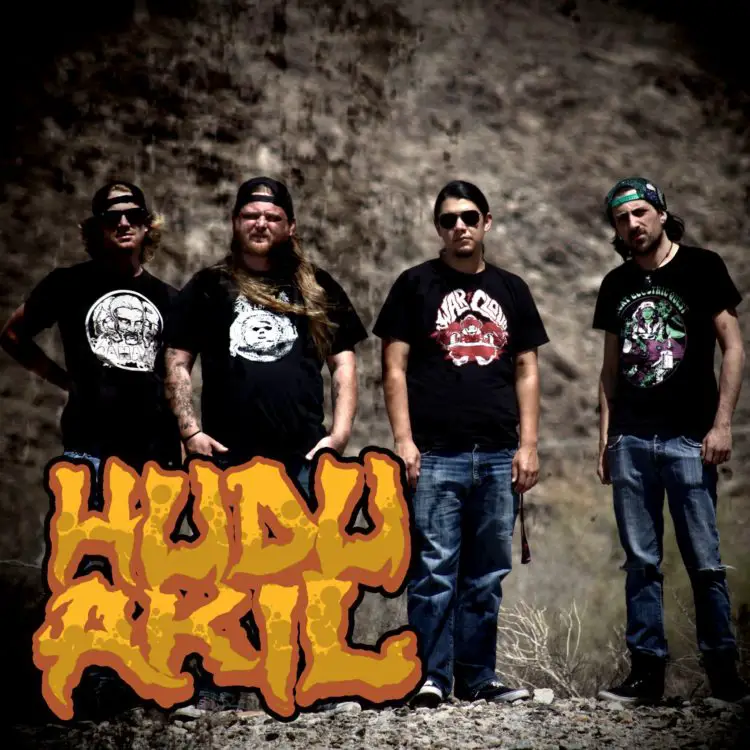 Hudu Akil are an American Heavy Metal/Stoner Rock band based in Phoenix, AZ. Since the band's 2017 eponymous, independent release, they have been featured in many online publications, radio shows and podcast, played 100 shows, and have toured the southern US. The online Stoner Rock publication "Desert Psychlist," had this to say for the band's self-titled debut:
"Elements of QOTSA's desert quirkiness are sprinkled throughout 'Hudu Akil' but it is to the gnarly, four to the floor, fuzz'n'roll of California's Nebula and early Fu Manchu that Hudu Akil owe their biggest debt. Songs like 'The Ride,' 'Medusa' and 'The Wait' breeze in on waves of warmly fuzzed guitar riffage bolstered by solid drum and bass patterns injected with bluesy guitar solo's and jerky, distinctive, vocals. Lyrics concerning booze, beer, cars and women are the order of the day here and if Desert Psychlist had to pick a line that summed up Hudu Akil's approach to life it would be the immortal words "Electric guitar, 1000 watts, I crank it up as loud as the day is hot", words which although may not be profound or deep say everything you need to know in one sentence."  – Desert Psychlist
Each track on "Hudu Akil," takes a slightly different approach to these genres, containing elements of both punk and stoner rock as well as classic arena rock and heavy blues vibes, and each track is different from the one before. The bands 2020 follow up is a step in a heavier direction.
"Eye for an Eye," the first full-length album from Hudu Akil, is set for release on August 15th, 2020. The two lead singles, "Who Do I Kill," and "Dawn," are now streaming on their bandcamp page where album presales are also available. The album is loaded with content over an expansive 11 tracks which collectively weave a tale of vengence and retribution – giving the work an extra dimension for the listener to indulge. Conceptually, the album could be viewed as one sole piece. From the first track to its epic outro, "Eye for an Eye," is like being slung from catapult and features a menagerie of muiscal styles and influcences. The tracks are diverse, one minute – a heavy-metal fury, like "Who Do I Kill," the next – you find yourself in a Clutch-esque trance on the track, "Don't Look Now." There are two instrumentals on the album. "The Scattered Sun Parade," which is the more mellow track of the album, and "Desert Boogie," featuring an array of auxiliary purcussion beneath a spoken word verse akin to a Jim Morrison track from the 70's. "Dawn," features organist Jesse Mitchell from Phoenix rockers Hovenweep, and delves into the bands heavy blues/psych rock intutions. In all, "Eye for an Eye," is a solid 45 minute journey through sonic excess, split properly in two sides for a vinyl release. "Eye for an Eye," was recorded at Switchblade Sounds in Tempe, AZ – mixed & engineered by Joseph Asselin, and mastered by Tony Reed at HeavyHead Recording Co. The band enlisted David Paul Seymour to provide the album artwork.
The band, again, plan to release the digital album independently on their own Jamspace Records (DMO Society.) The album will also be available across all streaming platforms upon release.
With the current state of the world, touring is obviously out of question for many in the music industry. The band have not scheduled a release show for the album, but have confirmed that the albums follow-up is already, "in the can," so more can be expected from this young band in the near future.

Band Line-Up:
Zac Crye – Guitars, Vocals, Bass, Synths
Angel Calderon – Drums
Ben Barnes, Kyle Eades – Gang Vox on "Who Do I Kill"
John Pino – Auxiliary Purcussion on "Desert Boogie"
Jesse Mitchell – Organ on "Dawn"
Read our review here.