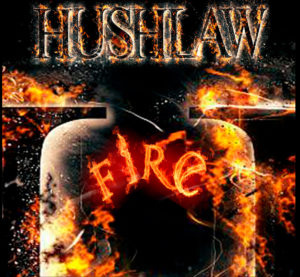 A few reviews ago I confessed that I love Hard Rock, specially those form the 1980s and a predilection for the 1970s with those overdriven guitars phrasings. Instrumentals aren't only the thing that sparks the most of my attention, but also vocals. In Hard Rock vocals are neat and somewhat incisive and creative because to stand out from the crowd vocalists have to find a different path. As a matter of fact, unfortunately our partners didn't use to work with many Hard Rocks bands, but now things have changed and we're receiving lots of them. Yippee!
First things first, what sparks my attention to this Hushlaw with "Fire" is the voice. Not the voice itself, but the way it was recorded. Now I have to ask your permission to explain the way I see it. In the 1980s many studios around the world – mostly outside the US and the bigger European countries as the UK and Germany – weren't equiped or prepared to record Metal music. Some of them thought that the distorted guitars were indeed a flaw and did everything they could to avoid those weird sounds –  in their opinions. To do that they raised the volume of the voice giving it a highlight also adding lots of echo effects. From where I'm standing too much highlight. Strangely enough, some today bands liked the effect and started to emulate it as if it were the real deal. That's exactly what happens to "Fire." The lead vocals were recorded louder than all the instruments letting everyone notice the echo effects that in general studios use to highlight the voice.
Ok, that all put. "Fire" is a very interesting record and as many of their peers, the eight songs inside it are not monolithic. Each song shows anything different and atractive to the fan. Instrumentals are neat and the guitars take a leading place as it is done in Hard Rock. I just love the screaming guitars and I think that they are what Metal has of best to offer. Hushlaw  are an exciting and energetic band and make the fan a king. Make no mistake, Hushlaw  are a Hard Rock/Heavy Metal band as it was done in the 1980s. It's not Rock, the generic label to all that is heavy today.
Hushlaw "Fire" was released on August 30th via Rockcd Records.
Track Listing:
Heat
Room
Fire and Flames
Ni un solo lament
Campo santo
Saliendo el sol
Zombie
We Play Rock
Watch "Fire and Flames" official video here: