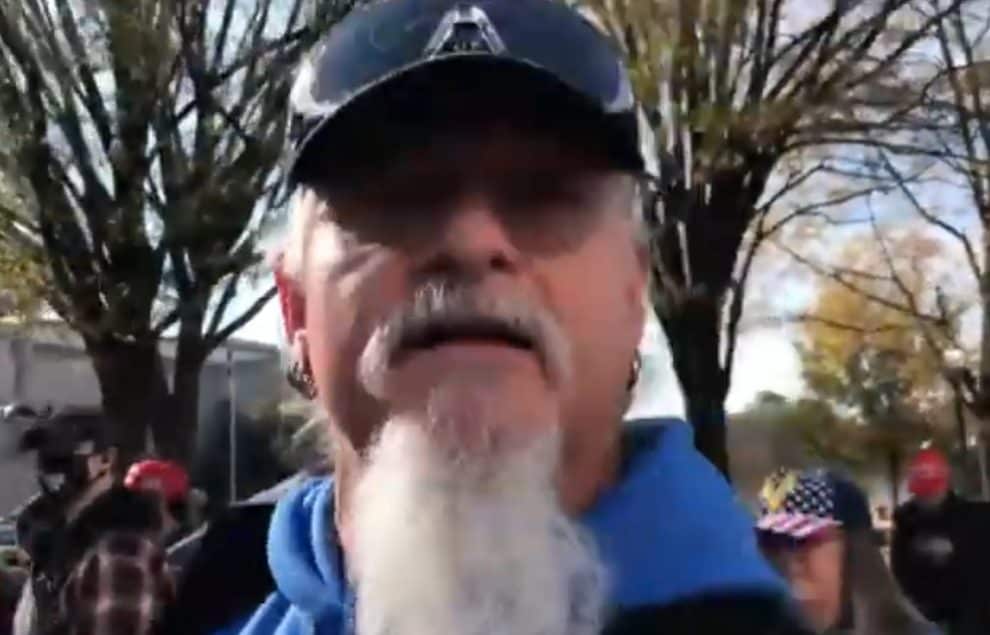 ICED EARTH guitarist and leader Jon Schaffer can apparently be seen in newly released security footage from the January 6 U.S. Capitol riot that the House impeachment managers obtained and submitted as evidence for former President Donald Trump's second impeachment trial.
The cllip, which was released by CNN yesterday (February 15), shows rioters charging through a breached entrance and engaging and pushing officers.
A man resembling Schaffer can be seen near the front of the mob, wearing a blue hooded sweatshirt, a tactical vest and black leather fingerless tactical gloves, and pointing his finger while yelling at the officers.
Check out the video below.
Schaffer, who resides in in Edinburgh, Indiana, is facing six federal criminal charges after he was accused of spraying a police officer with a pepper-based bear repellant during the January 6 insurrection.
These are the six charges Schaffer is facing, according to the FBI Indianapolis Field Office:
1. Knowingly Entering or Remaining in any Restricted Building or Grounds Without Lawful Authority
2. Disrupting the Orderly Conduct of Government Business
3. Knowingly Engages in an Act of Physical Violence Against any Person or Property in any Restricted Building or Grounds
4. Violent Entry and Disorderly Conduct in a Capitol Building
5. Engage in an Act of Physical Violence in a Capitol Building
6. Parade, Demonstrate, or Picket in a Capitol Building