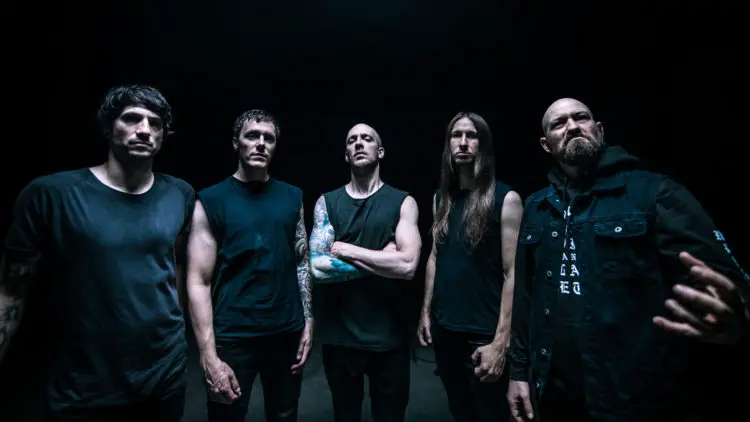 "HADAL ASCENDING" is the fourth full-length album of the german death metal band ICHOR. The album links thematically to the bands' albums "BENTHIC HORIZON" and "DEPTHS." The fictional story of a devastated and hate-filled deep-sea world full of creatures and mystical beings continues: Human warriors reached the hadal-level in the deep sea and fight a bitter fight against gorgons and creatures of the depths. To implore transcendent energies, rituals are hold during the slaughter. The demon "Zaan" awakes and feeds on the blood of the warriors. He opens the portal to other worlds and as a leader of gorgons and creatures, he leads them through the portal into the empire of stars and planets.
Whereas in "DEPTHS" pure destructiveness dominated, in "HADAL ASCENDING" little sparks of melancholic hope flash – only for one reason: To intense the pain of the trident that penetrates the heart of all existence. The three-pronged weapon is seen as a symbol for the union of three musical elements which in their melting form the musical concept of the album and thus link the storyline with the music: blast beat brutality, chaotic midtempo melody maelstrom and ravaging rhythm riffs. "HADAL ASCENDING" continues the band's previous albums: US deathmetal influenced guitarwork which more and more frequently breaks out in varying and freezing cold blackmetal parts. Innovative cymbal sculptures and bassdrumparts set modern accents. Deep growling and selective nagging freak outs of the vocals jump in the face of the listeners and take them on a journey to the spuming shores of the apocalypse. The hallmark of the previous album "DEPTHS" was up-tempo blastbeat thunderstorm. On "HADAL ASCENDING" the tempi of the songs vary stronger and bring the album dynamic and variety. Like the previous output of ICHOR, "HADAL ASCENDING" is more than an album with 30-seconds-skipping tracks. The dense atmosphere of the entire album is due to the joy of detail in each song and bites slowly but surely in the listener's ear.
"HADAL ASCENDING" was recorded, mixed and mastered in Hertz Studio Poland (Behemoth, Hate, Decapitated, Vader), like "BENTHIC HORIZON" and "DEPTHS." The coverartwork was painted by Par Olofsson (Aborted, The Faceless, Immortal). Mentalporn (Origin, Immolation, Hate, Behemoth) graced "HADAL ASCENDING" with an elaborate layout. For the track "In Ecstasy" a coverart video was created and for the track "Tales From The Depths" a musicvideo was filmed.
"HADAL ASCENDING" is released via Unholy Conspiracy Deathwork (CD, digital) and Wooaaargh Records (vinyl).
Read our review here.