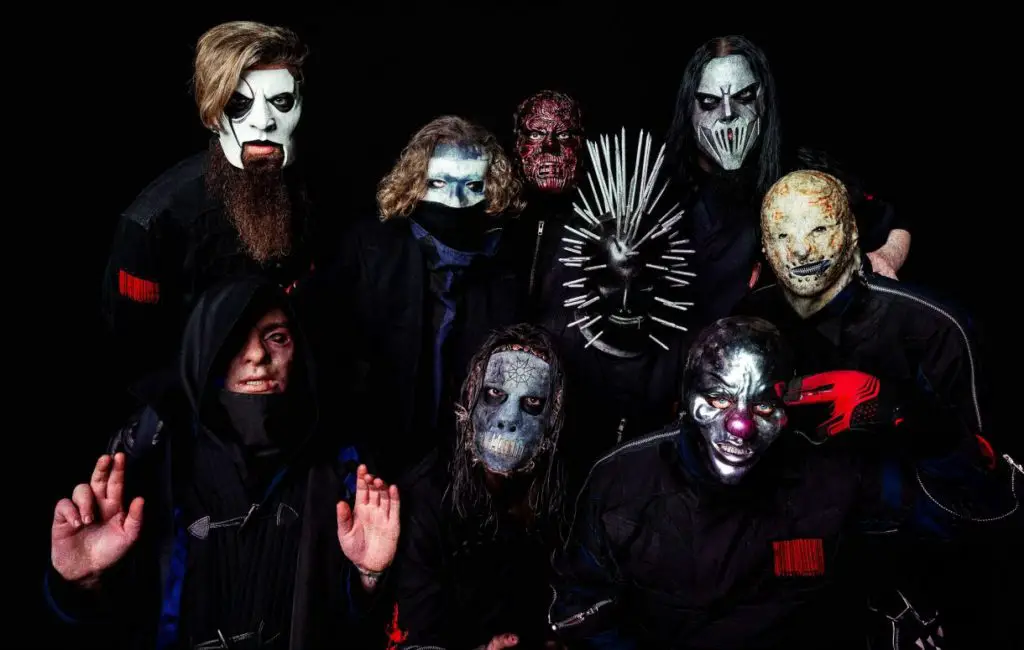 A new photo of the mystery new SLIPKNOT member arriving backstage with the band for Jimmy Kimmel Live a couple of weeks ago has surfaced.
SLIPKNOT have refused to reveal the identity of the new member, who is replacing percussionist Chris Fehn.
Some fans on Slipknot Reddit had speculated that Zach Hill is the new percussionist, and said they saw him at Jimmy Kimmel Live.
One fan posted (via Alternative Nation): "Also it seems they arrived already in full gear and masks. Which contradicts Zach Hill being seen… how can Zach Hill be there and The new guy arrive and in full gear??? I might be missing something.
"As I'm just interpreting things based on photos of the SLIPKNOT members arriving.. all of them arrived geared up.. sure some without their masks, but strange that both Shawn Clown Crahan and "New Guy" arrived together with masks already on…."
One fan posted a photo taken of Zack Hill apparently wearing a mask with his mask inside (see photo below.)
One fan commented: I was there in line at Jimmy Kimmel from 12 pm and I saw this guy arrive and walk off with a bag just like Jay's [Weinberg, SLIPKNOT drummer] (carrying his mask) and they later walked out in costumes together, and i previously assumed it was Gage [Crahan, Shawn Crahan's son] but after looking up who Zach Hill was i swear 100% its him he looks like Gage but its him for sure.
Hill is best known as the drummer and co-producer of the group DEATH GRIPS and math rock band HELLA as well as the alternative dreamrock band TEAM SLEEP. His intense, high tempo drumming style is his key hallmark.
In March, SLIPKNOT announced the departure with the percussionist Chris Fehn after he filed a lawsuit against his band members over unpaid loyalties.
In his lawsuit, Fehn claims to have always been told that the money from merchandise and touring is funneled through one sole company that splits profits and pays the members of the band. However, Fehn claims he recently discovered that his bandmates have set up several other SLIPKNOT-affiliated business entities in different states that appear to be collecting money from the band.
SLIPKNOT will release their sixth studio album, We Are Not Your Kind, on August 9 via Roadrunner Records.