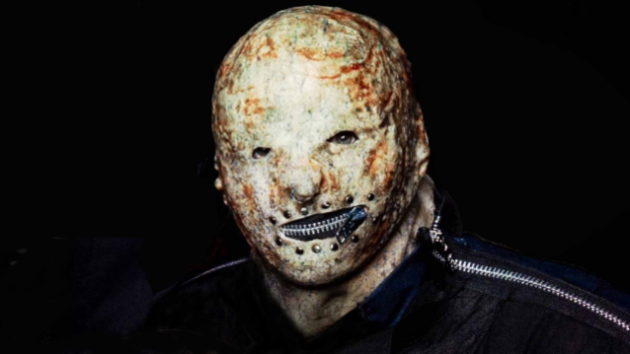 SLIPKNOT's official U.K. merchandise store on the Digital Stores web site is now taking pre-orders for "Pfaff Neck Gaiter Face Cover," pretty much revealing identity of band's latest recruit, the percussionist nicknamed "Tortilla Man."
This past February, Postojna Cave, the most extensive cave system in Slovenia, hosted three SLIPKNOT members: Shawn "Clown" Crahan, Jay Weinberg, and the band's latest recruit, the percussionist nicknamed "Tortilla Man."
The several photos from their visit (see here), which were posted to the Postojna Cave Facebook page, support the theory that SLIPKNOT's newest member is the multi-instrumentalist Michael Pfaff. Pfaff played keyboards with Crahan in the band DIRTY LITTLE RABBITS and is also a member of the Iowa-based duo THE SNACKS.
Pfaff's name was first brought up in relation to Tortilla Man in August, 2019 when SLIPKNOT guitarist Jim Root gave an interview to "The Art And Span Show" in which he described the mystery man as "a world-class pianist" and "a great percussionist."
"He's a character. I didn't really know him very well before he started playing with us. But he's a hell of a musician," Root said.
"The guy is a world-class pianist. He's a great percussionist, he's schooled in music. He's not just a garage musician who came up and learned on his own. He obviously had natural ability, but he took it to another level and actually got a degree in music.
SLIPKNOT released their sixth studio album, We Are Not Your Kind, on August 9 via Roadrunner Records. Album was once again recorded at a Los Angeles studio with producer Greg Fidelman, who engineered and mixed SLIPKNOT's 2004 album "Vol. 3: (The Subliminal Verses)" and helmed 2014's ".5: The Gray Chapter."