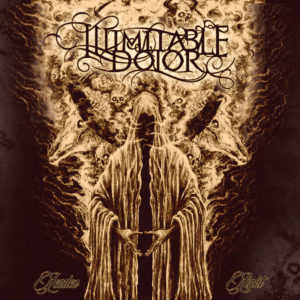 It's very hard to believe that Illimitable Dolor and Eremit are considered to be of the same genre. They're both Atmospheric Sludge Death Doom Metal. Well, on second thought, Illimitable Dolor aren't sludge. But the difference calls the eye even in the length of songs. Of course, they are still long, but not that long and there are more changes of tempo and cadence. Guitar's sound is crystal clear and there are phrases and other features more common in a Heavy Metal band. The music is not so raw and straight ahead. Illimitable Dolor had the care of writing more embellishments to the five tracks (!) contained in "Leaden Light." Guitar licks and bridges are even of devilish beauty. I confess Illimitable Dolor sound much appetizing to me. I do embrace changes, but they have to come little by little. Come on, you're reading a person that grew listening to Classic Metal and saw most of the changes it went through all those years.
As a matter of fact, the only thing dark and gloomy in "Leaden Light" is the vocals. Instrumentals, as I told before, as crystal clear and with a positive vibe. It's another contrast that Metal bands use to bring it on. Metal music without contrast isn't Metal music. It the contrasting sounding that makes Metal what it is. The keyboarding in "Armed He Brings the Dawn" makes all the difference giving the song an ethereal, and almost epical, grip. Even so, Illimitable Dolor aren't a palatable band to layman ears. It still sounds very rude to them. But we praise that. Metal isn't made to be palatable, even though some bands really tried so hard to do it. For everyone's sake it couldn't last long and pop Metal were bound to fade away. It's not really a contrast, but an irony. Metal again went on the other direction. Well, you know, it is the Metal we all love.
"Leaden Light" is an album with clear intent and this intent is carried on throughout the five tracks of it. It's also an intimistic album, an album to contemplate. I'm still curious to see a today's kid listening to Doom Metal. Maybe they like it just because.
Illimitable Dolor "Leaden Light" will be released on March 20th via Transcending Obscurity Records.
Track Listing:
Armed He Brings the Dawn
Soil She Bears
Horses Pale and Four
Leaden Light her Coils
2.12.14
Watch "Soil She Bears" official video here.