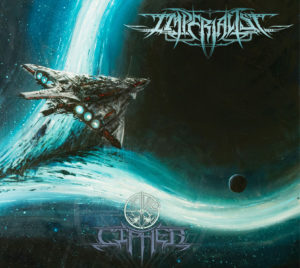 It's so good when you listen to a musical genre that make it possible to express all the feelings you have. Metal is the only musical genre in this sad and lonely planet that allows you to. Imperialist with "Cypher" can help you cope with all the humankind drama. Imperialist cope with very well as their peers. Their music shows us that it's possible to cope with all human emotions as in a soundtrack.
"Cypher" can be labeled as the avant-garde of Metal. If you want a piece of Metal act which can show you what is the most cutting edge, this is Imperialist with "Cypher." The funny thing is that the music Imperialist play in"Cypher," except vocals can be described as traditional or old school metal. Imperialist play by the book what cutting edge bands are doing these days. And from where I'm standing, it's pretty exciting. Black Metal has found the balance between heavy and fast. Instrumentals are more carefull, songs are well-built. Sharp guitars and angry vocals, a lethal combination.
Songs in "Cypher" are medium length, a five-minute average, except for "The Continuum" which is a nice instrumental song. "The Continuum" follows a tradition in Metal, it's a deceptive song because if don't know what is to come, "The Continuum" leads you to a different musical place. Lots of bands have been doing this for the first track. I can't understand why because a non-metal fan won't listen to the rest of the album. But, anyway, a great track.
It's so great to see bands look for a different inspiration to write songs. Imperialist search for it in science fiction. Evil isn't only on Earth. It is everywhere, even in space. As I told in my last review about a Black Metal band, in the immaterial lands on this Earth,  there are the ones who suffer, and the ones who actually suffer. The name Imperialist stands for the ones who make the suffering. That's what cutting edge Black Metal bands stand for today. There's no contradiction at all. All the suffering they want to pass is for the tormented souls. They aren't them, they are tormentors. See the difference.
Imperialist "Cypher" will be released on October 20th via Transcending Obscurity Records.
Track Listing:
Continuum
The Singularity
Advent Anathema
Splendor Beneath an Ancient Permafrost
Umbra Tempest
Chronochasm
Binary Coalescence
The Dark Below
Mercurian Dusk
Watch "The Singularity" official video here: