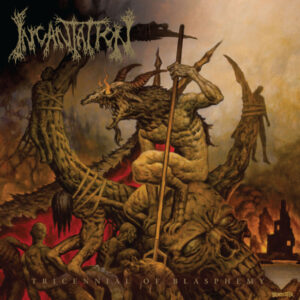 Incantation are defenitely a stapler of Death Metal. Now it's the time to honor the band for its thirty years of blasphemy and defense of the faith of Metal music. This "Tricennial of Blasphemy" – I couldn't think of a better tittle to it – opens the roads for more time of a relentless power and fiercy musical ferosity that the band represents. In these thirty years of career the band has released 12 studio albums, 4 Eps, and 2 alive albums. Coming to think of it, a hell of a long way. As a fun fact, guitarist and vocalist John McEntee is the only founding member left.
"Tricennial of Blasphemy" contains 31 tracks in three CDs from which 7 tracks were taken alive from the alive albums the band recorded.  Two of them are unreleased tracks, "Pest Savagery" and "Ordained By Night's Will." As all compilations like this, the album goes throught the band long career and take the songs that represent it better. As I always say this kind of album is great thing for the fan that wants to get to know the band's career. It's a kind of sum up of what the band has been doing for these 30 years of malevolence and musical incantation – no pun intended. From here my dear child of the night will notice that Incantation have been one of the bands that has successfully mixed speed-of-the-light cadences with slower ones. This kind of killer combination is one of the staplers of the band. The other one is the out-of-hell vocals that are grittier and lower than the average. "Absolved In Blood" tells this dark tale better. Pay attention to the insane low vocals and the intense and mesmerizing slow cadence of the song. The striking and sharp guitar solo intervention is a killer as well. The same goes on the other way around with the insane speed of "ScapeGoat" and its mocking as a demon vocals. Those traits weren't the deal within Death Metal in 1989 when Incantation started their life long full of bloodthirsty journey. Death Metal owes a lot to them.
Bands as Incantation are dripping blood everywhere in their long time career. The band is here to prove all the naysayers – to say the least – that bet Death Metal wouldn't get that long. If you know the band this album is a great honor, if you don't it's the best way of starting.
Incantation "Tricennial of Blasphemy" will be released on October 14th via Relapse Records.
Track Listing:
Pest Savagery
Ordained by Night's Will
Obelisk Reflection
Nefarious Warriors
Degeneration (Revenant cover)
Absolved in Blood
Scapegoat
Sacrificial Sanctification
Thieves of the Cloth
Exiling Righteousness
Hell Awaits (Slayer cover)
Horde of Bestial Flames
Ethereal Misery
Impending Diabolical Conquest
Forsaken Mourning of Angelic Anguish
Nocturnal Kingdom of Demonic Enlightenment
Subjugation Divine
Emaciated Holy Figure
Deliverance of Horrific Prophecies
Profanation
Intro-Entrantment of Evil
Eternal Torture
Devoured Death
Unholy Massacre
Oath of Armageddon (Live)
Portal Consecration (Live)
Impending Diabolical Conquest (Live)
From Hollow Sands (Live)
Iconoclasm of Catholicism (Live)
Absolved in Blood (Live)
Lead to Desolation (Live)
Watch "Impending Diabolical Conquest (Live)" official audio here: