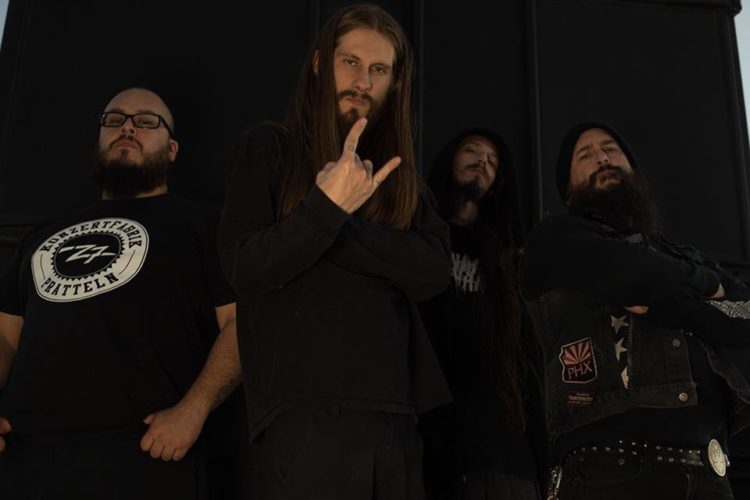 Heavy metal frontrunners INCITE – lead by frontman Richie Cavalera – have announced select details about their upcoming fifth full-length burner, "Built To Destroy", scheduled to drop in early 2019 via Minus Head Records. Produced by Steve Evetts (THE DILLINGER ESCAPE PLAN, SUICIDE SILENCE) and mastered by Zeuss (ROB ZOMBIE, HATEBREED), "Built to Destroy" is a visceral, urgent, voracious distillation of modern metal with reverence for the past.
Nearly 15 years into a career in which everything they've accomplished was earned and nothing was taken for granted, INCITE bridges the gap between various metal sub-genres, but one thing is for certain – you will be banging your head in no time. This is a band who will open for GORGOROTH one night and CANCER BATS the next, converting true-believers out of everyone who crosses their path.
Today, INCITE dropped a new static video for their new single "Ruthless Ways".
Vocalist Richie Cavalera says, "Our new song 'Ruthless Ways' is about being a piece of s**t and it finally catching up with you. It's the exact vibe we wanted to explode out the gate with. The song is brutal, catchy, and hella groovy. It's a good feel for what to expect on this new album. Huge riffs, massive drums, bass for days, and a new vocal feel that to me is pure evil and nasty. We kept it real heavy – get your headbang on."
The track can also be downloaded/streamed via iTunes, Spotify, Amazon, and Bandcamp.
As renegade disciples of trailblazing metal architects like PANTERA, SLAYER, SEPULTURA, and MACHINE HEAD, INCITE raise the torch for trend-killing and hipster-smashing metal. INCITE is as much a part of the fabric of the style championed by LAMB OF GOD as the surge of newer bands like POWER TRIP. INCITE perfected their signature brand of extreme sounds by playing shows with DEVILDRIVER, CROWBAR, BRUJERIA, SOULFLY, CAVALERA CONSPIRACY, and SIX FEET UNDER.
INCITE is currently out on their North American Burn & Shred headline tour. The band plans to perform the new tracks "Ruthless Ways" and "Built to Destroy" on the road. See below for all tour dates.
Leg One (with AETHERE)
September
7 – Cave In Rock, IL – Full Terror Assault *
8 – Omaha, NE – Lookout Lounge
*no Aethere
Leg Two (with LODY KONG)
September
14 – San Diego, CA – Space Bar
16 – Oakland, CA – Elbo Room Jack London
17 – Sacramento, CA – Blue Lamp
19 – Portland, OR – High Water Mark
20 – Seattle, WA – El Corazon (Funhouse)
22 – Boise, ID – The Shredder
25 – Denver, CO – Streets of London
27 – Las Vegas, NV – Beauty Bar
28 – Phoenix, AZ – Club Red