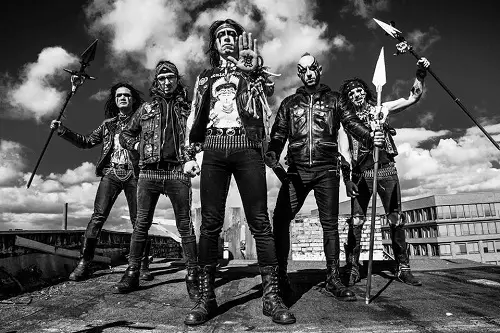 Formed in 2014 by musicians from Indonesia, Italy, Turkey, and Mexico, INDIAN NIGHTMARE made a difference within the wider trad metal scene right from the start. As self-proclaimed tribal metal punks, the quintet put up their tent in German capital Berlin and quickly established themselves with an original tack on blackened thrash metal, both aesthetically and musically.
By making the members' different cultural backgrounds almost palpable, their 2016 debut "Taking Back the Land" offered such a striking variation on the genre template that the youngsters were hailed as newcomers of the year by fans and media, a title that was fiercely defended at each succeeding gig the played. Therefore, expectations were high in advance of the follow-up, but "By Ancient Force" turns out to be another proverbial tomahawk to the head.
Going into the songwriting process, the hopefuls felt no pressure at all. "We got to know each other better," says guitarist Butch. "The essence of our sound remains the same since none of us is replaceable. We all contribute our respective parts, and that makes this project what it is."
The material was produced by the band itself with help from friends after recording the basic tracks live at Big Snuff Studios "because it's the best way to bring out our energy. We used awesome retro equipment, the honest and warm sound of real analogue tape in this facility from the 1970s combined with our aggressive music was just perfect."
With an unmistakable message against any form of discrimination and regarding the musical mettle of "By Ancient Force" alone, it is clear that INDIAN NIGHTMARE are meant to become a mainstay in the international metal scene. "We have reached a new level with our second attack and are willing to go as far as we can. This is just the beginning …"
Read our review here.