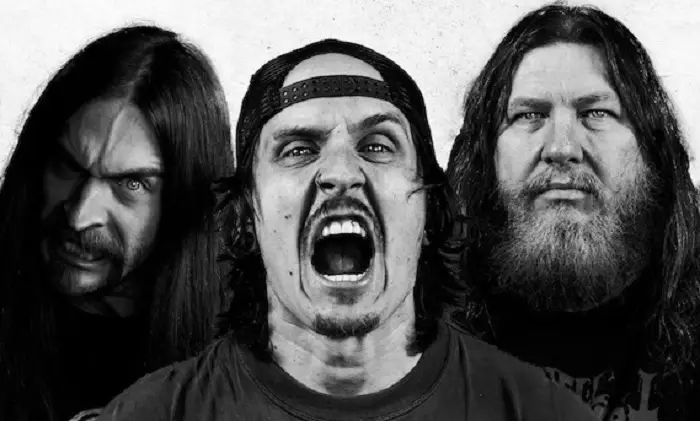 Florida death metallers INHUMAN CONDITION have revealed the details of their new EP, entitled Panic Prayer.  This marks the group's third release since their formation in early 2021. 
Set for a July 21st release on Listenable Insanity Records, Panic Prayer features three new original compositions, 4 live songs, and a smashing cover of the BLUE ÖYSTER CULT classic hit "Godzilla."  With members of OBITUARY, DEICIDE, and VENOM INC., the trio is no stranger to extreme music, blending a mix of groovy death metal and thrash, with a pinch of hardcore. 
The group have once again enlisted the help of art-extraordinaire Dan "Babe Ruth" Goldsworthy (CRADLE OF FILTH, ACCEPT, HAKAN, ALESTORM) for the cover art for the EP. Goldsworthy's third album cover for the band features the bands "unofficial mascot," sometimes referred to as "the Rat God", who was on the group's 2021 debut Rat°God, as well as 2022's follow-up album Fearsick.
Kling says: "When you are face to face with the crushing weight of darkness, what will you reach for? Your wits? Your talisman given to you by an old family member? Or will you embrace the end? This thought will run through everyone's mind. How you handle that moment is individualistic at best. 
Panic Prayer track-listing:
1. Civilized Holocaust
2. Final Credits
3. Panic Prayer
4. Godzilla
5. The Mold Testament (live)
6. Recycled Hate (live)
7. Euphoriphobia (live)
8. The Neck Step (live)
INHUMAN CONDITION is:
Jeramie Kling – Vocals/Drums
Terry Butler- Bass
Taylor Nordberg – Guitar