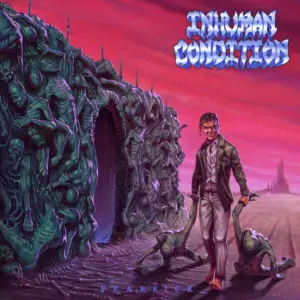 Just the other in my previous review I was saying about the details a reviewer begins to notice after some time of writing reviews. Well, though I was referring to a Power Metal band, this rule applies to all Metal music. In this very especific case of today's review the band is Inhuman Condition with "Fearsick" a great piece of Death Metal. As my child of the night knows, Death Metal is a powerhouse of details that bands carefully build in each layer of their music. Inhuman Condition with "Fearsick" isn't different at all. The band builds layers and layers of intrumentals as well. The thing here is that their instrumental sonancy is much more near Old School Heavy Mtal and Thrash Metal than to Death Metal. Ok, this alone would label them as Melodic Death Metal. But hold your horses. Not that simple. The lack of melodic guitars doesn't allow tham to be considered Melodic Death Metal.
Inhuman Condition were formed by ex-members of Massacre, namely Taylor Nordberg and Jeramie Kling after they departed the band in 2020. Their name is taken from the title of the band's 1992 EP. Besides all that, the band is rapidly conquering a loyal legion of of followers and this album was very much awaited. The fans of modern Death Metal will love "Fearsick" because it is a very heavy album with mostly Old School Heavy Metal and Death Metal instrumentals. Guitars love to make that famous galloping riffing with other common to Heavy Metal traits. There are also some Thrash Metal riffing elements that give the songs that spice and even some groove. Whammy bars are also used a lot during the guitar solos to deliver some effects and to give that mood of insanity and crazyness. The drums are fast and tight. I miss, though, more blast beats. However, it's not the real intent of the band. The kind of simple but effective drumming.
I feel that fans of Obituary, Death, and Cannibal Corpse will appreciate this album. Moreover, I don't know why I keep reminding Carcass while I'm listening to the album. I don't think they are related but I guess my child of night will find some resemblances as I did. Maybe it's the mood and the intent. Maybe. Maybe not. That's something that usually happens when one listens to all the music I listen to. I'm complaining. Just saying. I'll leave it to my child of the night to give the opinion.
Inhuman Condition "Fearsick" will be released on July 15th via Listenable Insanity Records.
Track Listing:
The Mold Testament
Recycled Hate
Caustic Vomits Reveries
I'm Now the Monster
King Con
Hellucid
Wound Collector
Fencewalker
Where Pain Is Infinity
Watch "The Mold Testament" official music video here: