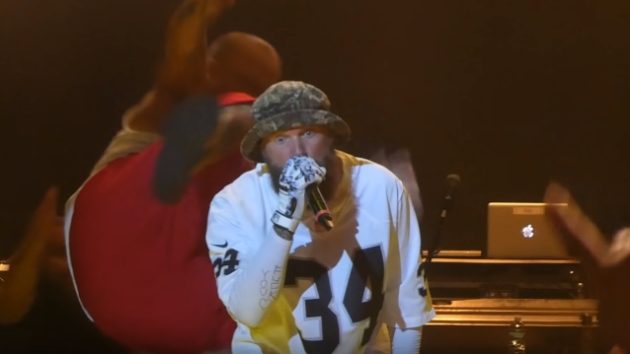 A member of INSANE CLOWN POSSE apparently tried to dropkick Fred Durst mid-concert. The incident happened last night (Saturday, October 6) at Camden, New Jersey's Rock Allegiance festival, which was being headlined by LIMP BIZKIT.
"What a pussy," stated Durst, adding, "It's one guy," but then noticing a second person had entered the fight with security. Changing his tune a bit after seeing what was going on, he offered, "Let's give the guy a hand," with that hand being a goodbye wave.
Back in 2012, Durst collaborated with INSANE CLOWN POSSE on a cover of AMG's "Bitch Better Have My Money". The recording appeared on "Covered, Smothered And Chunked", the bonus covers album that was sold with the "red pop" version of ICP's "The Mighty Death Pop" LP.