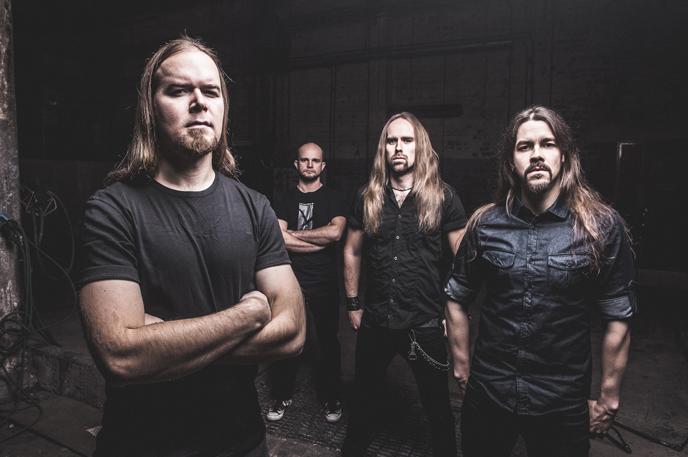 Finnish melodic deathsters INSOMNIUM have announced a European tour for early 2017 to support their forthcoming release "Winter's Gate", a concept album that is made of one epic 40 minute song, which they are going to play in its entirety on this tour!
Frontman Niilo Sevänen comments: "We are very excited to get back on the road again! Last autumn a serious illness in my family forced us to make some drastic decisions and for example cancel one tour altogether. Since then things have progressed very well and steadily so everything looks a lot better at the moment. We've only made festivals and short trips this year but in 2017 we'll be back on making longer tours all over the world.
The forthcoming Winter's Gate album has been mixed by Dan Swanö and it sounds amazing. Playing this 40 minute monster song will be an interesting challenge in a live situation but we can't wait to do this! This European tour in January will be a rare opportunity for our fans to hear the whole epic song live, so it will be a very special show every night."
These are the exact tour dates:
METAL HAMMER, EMP, MUSIX and HEADBANGR present:
WINTER'S GATE EUROPEAN TOUR 2017
11.01.2017 – Matrix, Bochum, DE
12.01.2017 – Colos-Saal, Aschaffenburg, DE
13.01.2017 – Biebob, Vosselaar, BE
14.01.2017 – O'Totem, Lyon, FR
15.01.2017 – Le Petit Bain, Paris, FR
16.01.2017 – Rainbow Warehouse, Birmingham, UK
17.01.2017 – Sound Control, Manchester, UK
18.01.2017 – O2 Academy Islington, London, UK
19.01.2017 – Doornroosje, Nijmegen, NL
20.01.2017 – Gruenspan, Hamburg, DE
21.01.2017 – From Hell, Erfurt, DE
22.01.2017 – Lido, Berlin, DE
25.01.2017 – Im Wizemann, Stuttgart, DE
26.01.2017 – Szene, Vienna, AT
27.01.2017 – Technikum, Munich, DE
28.01.2017 – Dynamo, Zurich, CH
See below for more live dates in 2016!
The new album will be released on September 23rd, 2016. It is built around the short story "Winter's Gate" (Talven portti in Finnish) by vocalist & bassist Niilo Sevänen, which won awards and nominations in Finland back in 2007 and 2008. It's a story about a group of Vikings who set out to find a fabled island west from Ireland, even though the winter is drawing near.
INSOMNIUM live:
FESTIVALS 2016
22.07.2016 – Klang! Festival, Kekava, LV
23.07.2016 – Riverside Festival, Esslingen, DE
26.07.2016 – Metal Days, Tolmin, SI
13.08.2016 – Brutal Assault, Josefov, CZ
14.08.2016 – Rockstadt Extreme Fest, Rasnov, RO
19.08.2016 – Kaltenbach Open Air, Spital, AT
20.08.2016 – Rockstad Falun, Falun, SE
10.09.2016 – Metalitalia Festival, Live Music Club, Trezzo sull'Adda (near Milan), IT
WINTER'S GATE EUROPEAN TOUR 2017
Presented by METAL HAMMER, EMP, MUSIX and HEADBANGR
11.01.2017 – Matrix, Bochum, DE
12.01.2017 – Colos-Saal, Aschaffenburg, DE
13.01.2017 – Biebob, Vosselaar, BE
14.01.2017 – O'Totem, Lyon, FR
15.01.2017 – Le Petit Bain, Paris, FR
16.01.2017 – Rainbow Warehouse, Birmingham, UK
17.01.2017 – Sound Control, Manchester, UK
18.01.2017 – O2 Academy Islington, London, UK
19.01.2017 – Doornroosje, Nijmegen, NL
20.01.2017 – Gruenspan, Hamburg, DE
21.01.2017 – From Hell, Erfurt, DE
22.01.2017 – Lido, Berlin, DE
25.01.2017 – Im Wizemann, Stuttgart, DE
26.01.2017 – Szene, Vienna, AT
27.01.2017 – Technikum, Munich, DE
28.01.2017 – Dynamo, Zurich, CH
FESTIVALS 2017
21.04.2017 – Ragnarök Festival, Stadthalle, Lichtenfels, DE
06.05.2017 – Karmøygeddon, 1866, Kopervik, NO