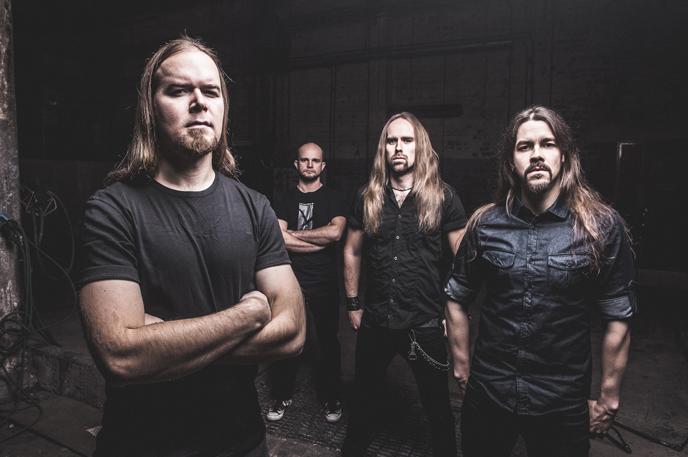 Finnish melodic death masters, INSOMNIUM, are about to embark on European tour next week to perform their epic concept album "Winter's Gate", a 40 minutes long song, in its entirety! The first shows have already been sold out.
Frontman Niilo comments, "We are really excited to start the Winter's Gate European Tour next week! Response for the new album has been amazing and the tickets for the shows seem to be moving fast as 3 shows have already been sold out. We are going to play the whole 40 minute mammoth song live so this is going to be a special tour. With a strong Finnish line-up of Barren Earth and Wolfheart by our side we are sure that it will be an atmospheric package of death and doom every evening!"
METAL HAMMER, EMP, MUSIX and HEADBANGR present:
WINTER'S GATE EUROPEAN TOUR 2017
11.01.2017 Bochum (Germany) – Matrix
12.01.2017 Aschaffenburg (Germany) – Colos-Saal
13.01.2017 Vosselaar (Belgium) – Biebob
14.01.2017 Lyon (France) – O'Totem
15.01.2017 Paris (France) – Le Petit Bain (SOLD OUT)
16.01.2017 Birmingham (UK) – Mama Roux's
17.01.2017 Manchester (UK) – Sound Control
18.01.2017 London (UK) – O2 Academy Islington
19.01.2017 Nijmegen (The Netherlands) – Doornroosje (SOLD OUT)
20.01.2017 Hamburg (Germany) – Gruenspan
21.01.2017 Erfurt (Germany) – From Hell (SOLD OUT)
22.01.2017 Berlin (Germany) – Lido
24.01.2017 Prague (Czech Republic) – Futurum
25.01.2017 Stuttgart (Germany) – Im Wizemann
26.01.2017 Vienna (Austria) – Szene
27.01.2017 Munich (Germany) – Technikum
28.01.2017 Zurich (Switzerland) – Dynamo
See below for more live dates!
INSOMNIUM live
WINTER'S GATE EUROPEAN TOUR 2017
Presented by METAL HAMMER, EMP, MUSIX and HEADBANGR
11.01.2017 Bochum (Germany) – Matrix
12.01.2017 Aschaffenburg (Germany) – Colos-Saal
13.01.2017 Vosselaar (Belgium) – Biebob
14.01.2017 Lyon (France) – O'Totem
15.01.2017 Paris (France) – Le Petit Bain (SOLD OUT)
16.01.2017 Birmingham (UK) – Mama Roux's
17.01.2017 Manchester (UK) – Sound Control
18.01.2017 London (UK) – O2 Academy Islington
19.01.2017 Nijmegen (The Netherlands) – Doornroosje (SOLD OUT)
20.01.2017 Hamburg (Germany) – Gruenspan
21.01.2017 Erfurt (Germany) – From Hell (SOLD OUT)
22.01.2017 Berlin (Germany) – Lido
24.01.2017 Prague (Czech Republic) – Futurum
25.01.2017 Stuttgart (Germany) – Im Wizemann
26.01.2017 Vienna (Austria) – Szene
27.01.2017 Munich (Germany) – Technikum
28.01.2017 Zurich (Switzerland) – Dynamo
21.-22.04.2017 Lichtenfels (Germany) – Ragnarök Festival
27.04.2017 Moscow (Russia) – Volta Club
28.04.2017 St. Petersburg (Russia) – Opera Club
04.05.2017 Gothenburg (Sweden) – Sticky Fingers
05.05.2017 Oslo (Norway) – John Dee
06.05.2017 Kopervik (Norway) – Karmoygeddon Festival
08.05.2017 Stockholm (Sweden) – Fryshuset Klubben
06.-08.07.2017 Ballenstedt (Germany) – Rock Harz Open Air
14.-15.07.2017 Gavle (Sweden) – Gefle Metal Festival
04.-06.08.2017 Corroios/Lisbon (Portugal) – VOA Heavy Rock Festival
03.-05.08.2017 Wacken (Germany) – Wacken Open Air
09.-12.08.2017 Villena (Spain) – Leyendas del Rock