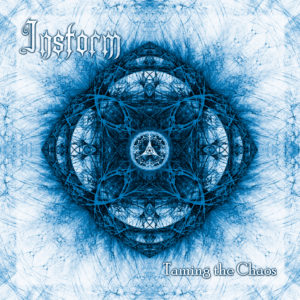 Imagine an insane mix of Iron Maiden, Helloween instrumentals and Death's vocals. Got it? That's exactly what Instorm "Taming the Chaos" brings you. And you know what? It's amazing!
Instrom were able to bring out all the epicness and grandious Iron Maiden and Helloween applied to their music with an insane vociferation. Yeah, I wouldn't dare to call it singing because vocalist Roman Nemtsev takes it to another level. Go right to "Serenity" and check out what I'm telling you. "Serenity" explains it better than my words. From we've heard from "Taming the Chaos" I guess its name is perfect. The chaos is represented by the vocals which are tamed by the neat instrumentals. But how dare Instorm to have a soprano in "Day Might"? Guitarist Marina Nemtseva does that perfectly. My, my, my, what a spectacular effect.
The combination of early Power Metal with a raspy vocal does all the magic to Instorm. It's the thing that makes all the difference and turns "Taming the Chaos" an album with creative and inspired guitar interventions with  powerful bass lines and thundering drums. All this in a very clean recording that allows us listeners to listen everything with no effort due to its neat production and careful editing and mixing. Listen to the guitar tones in "Lethal Winter" and "Quest for the Light" and notice how clean and meticulously played and recorded they were.
Pay attention to what I'm telling you; listen to "Taming the Chaos" very carefully because it is an album that deserves all the time you can spent on it. It's really worth it. The instrumental on tracks like "Another Reflection" reminds a lot the good old Viper – when they were great. The pounding guitars and the 'jumping' drumming are marvelous.
Instorm "Taming the Chaos" was released on December 07th via Metal Carnival Records.
Track Listing:
The Origin of Chaos
Day Night
Another Reflection
Lethal Winter
Quest for the Light
Reach for the Sky
Serenity
Wisdom of Insanity
Lifeless
Faith Path
The Light
Watch "Lethal Winter" official video here: