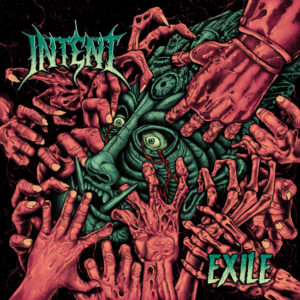 Some bands just have their way to start an album. Intent here begins with the best way giving no rest for our ears with a respectable musical carnage and bloodbath. It's pretty hard to find a band so cruel these days where some bands confuse things and put melody in the first place. Well, this is METAL, for the Metal gods' sake! Metal has to be cruel and fierce. Metal bands' music has to shock. It's not prone to be liked for everyone.
It's no wonder that "Exile" has its roots in Slayer's "Reign in Blood" era being as vicious as the band was that time. 10 in 11 bands with vicious and cruel musically have their roots in Slayer. That's a pretty good way of measuring a band's prominence and relevance. Take a look at "Primal Instinct" and see how the band deals with all the influence.
To some extent, Intent are a product of late 1980s Thrash Metal when the music had to be the loudest and hardest as possible. Interestingly, it's funny to remind that Death Metal was born as response to the lack of heavyness of the late 1980s. Well, not Thrash Metal which was pretty fast and furious as always. Intent were able to get all the fury and instrumental leverage of that time. "Exile" has that fast and tight drumming that make headbangers crazy. Non-stop killing is the trademark in here in the album. No rest for the wicked, I must say. Take a look at "Shallow Earth" and try not to bang your head. Following track "Time" brings some unexpected melody. But melody in here means something very different. "Time" is a track that cools down only to the fan gets some fresh air and prepare for the restless "5th Column" which is a track that leaves nothing behind it. The bringer of destruction would be a great tittle for it. By the way, is the track I have to put in my book for its violence and unspeakable virulence.
If my dear fan is in the mood for some musical violence "Exile" is the right album. The kind that leaves one speechless and breathless due to the obscene quantity of power and heavyness. And some dare to say that Thrash Metal is predictable. Ops, that's me…
Intent "Exile" was released on August 26th.
Track Listing:
Victims of Conquest
Exile
Shallow Earth
Primal Instinct
Verbatim
Changing the Axis
Time
5th Column
Watch "Victims of Conquest" official music video here: