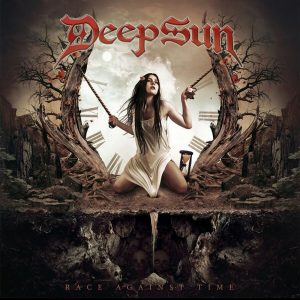 First of all, congrats for your album! Great music! As I wrote in my review, you are everything a symphonic metal band is, except boring and too soft that sometimes you forget you are listening to metal! You really sound heavy, full of heart, and great songs.
MA – I see that you've been on the road since 2005, and the band's changed quite a little. How was that? How was dealing to all those time to have the band formed? By the way, have you always wanted to be symphonic or did it change with the members?
DS – Well, the band was founded by our former drummer Ermes with the intention to play Symphonic Metal from the start. He previously played in the Swiss band "Lunatica", who are pretty well-known in the genre and he wanted to do something similar again. So, it was clear which kind of musicians the band had to look for, but the search for fitting members took a long time. Over the course of about 4 years quite a few people came and went and there was no complete lineup most of the time. Therefore, rehearsals often were more like jam-sessions and there was only one public show during that era. A complete and steady lineup finally could be established in 2009 / 2010 with the additions of Pascal, Debora and Angelo. From there on the band was able to work with more focus and determination. Then, in early 2011 we started playing our first shows and later that year the last lineup-change happened, as Tobias replaced Ermes on the drums. So, as you can see, it was quite a long journey and it took a great deal of patience before this band was really finalized. The early days, for sure have been tough and discouraging at times, but on the other side there was no pressure also. Today the band is much more active and usually there's a tight schedule for live-gigs, recording and all the little things that need to be taken care of. But that's what it takes to get anywhere and right now we have a lot of motivation.
MA – I really thought that the keys sounded a lot like early Bon Jovi in 'Good old times'. Was that kind of a reference? Or was it a tribute? What are the bands that influenced you?
DS – Well, we pretty much all like Bon Jovi, but "Goods Old Times" is not influenced by them or supposed to pay tribute, as far as I know. The band has a lot of influences as all members have their own distinctive musical backgrounds. Obviously, Nightwish is a major influence, especially to Debora, who is a huge fan of Tarja. Also Tom and Angelo are very connected to the early Nightwish albums. Furthermore, there's a strong element of classical music. Some of us have played classical instruments in orchestras in our teenage years and Angelo still plays various other instruments beside the bass. Debora went through years of classical training, which helped her reach that supreme soprano voice she displays today. Other than that, we also have a lot of influences from 80s rock music, classic heavy metal as well as some more modern and more aggressive metal styles. Some symphonic metal and power metal bands are inspiring us too, of course, and there's a slight touch of folk music and also film scores here and there. Some of us also take part in other musical projects.
MA – Switzerland is not really a traditional country about Metal. To be fair with you guys, I can only name the two obvious: Krokus and Celtic Frost. Can you tell us about the metal scene in Switzerland? How do they receive new bands? Are they receptive? What metal genre is preferred?
DS – Well, the Swiss metal scene certainly has a few more well-known acts to show for. Eluveitie and Gotthard come to mind as the biggest names and there have been other cult bands like Coroner for example. But it is undeniably true that Switzerland is not really known of it's metal music. It's quite an underground scene with many bands, but almost all of them don't get successful enough financially to consider going professional. So, most metal musicians do it strictly as a hobby, like we do. The bands are supporting each other quite well and many have very close relationships between them. But it's rather difficult to get noticed by the large public. There are quite a lot of metal fans, I believe, but many of them more or less only go to the big names and don't care much about local bands, I would say. The most established and best-received style in Switzerland is probably Hardrock. With Krokus laying the groundwork in the 70s and bands like Gotthard or Shakra following later on, this genre is pretty well represented in our country, also with lots of summer festivals focusing on that style. Apart from that, pretty much every genre of metal is covered also, but most of them staying absolutely underground. Zurich and Luzern for example are somewhat known for their thrash and death metal scenes. The folk and pagan metal scene has emerged quite successful during the last few years, spearheaded by Eluveitie.
MA – Few musicians can make a living from their art. Is that the same with you? Do you have other jobs besides the band?
DS – Yes, the band does not make any profit yet. We are self-financed and self-managed and it would already be quite a success to us if the band could reach break-even. So, we all work full-time and consider the band as a hobby. The only exception being Debora to a certain extent, as she earns a little extra cash by singing on weddings and other events in addition to her almost-fulltime day-job. However, we have gotten more and more ambitious over the last few years and with the release of our new album "Race Against Time" we are pretty optimistic about making a big step forward now. We also spend some money on promotion and distribution now, which has not been done before with the first record.
MA – Generally lead singers get most of the attention. I guess that having a female singer makes this bigger as we must agree that women are not so many in Metal music. How do you deal with that? Has it ever got embarrassing? I mean, have fans ever got more "easygoing" than the expected?
DS – The format of a female-fronted metal band with only guys at the instruments is nothing new anymore, so that makes us not very special in that regard nowadays. The singer garners most of the attention, that's definitely correct. In our case, with Debora wearing very elaborate and exquisite costumes on our live shows and with her superb stage-presence she is the eye-catcher, without a doubt. But that spotlight is also very well deserved as she puts in a lot of work in her singing, which is the biggest selling-point of the band musically also. There have been some occasions where fans have become a little obtrusive towards her, but she is very tough and the band is really close like a family, so we can deal with such things pretty well.
MA – Time seemed to be a big worry in this album. Not only that. Your first album reminds the Phoenix, the bird that reborns from its own ashes. I recall four tracks talking about it: the title track 'Race Against Time', 'Good old times', 'Nostalgia', and 'For Eternity'. 'Race Against Time' is about the fast pace that time seems to be imposed to us. All the technological and cultural changes. 'Good old times' and 'Nostalgia' are about missing something, about missing a childhood or a loved one. That feeling that is very expressed by the word nostalgia in Italian. Did you intend to make a concept album or was it natural?
DS – We did not intend a concept album at all. Instead, basically we chose the best tracks of our catalogue to put on the album with new songs as well as some old songs, which have been around since the first live-gigs, making the cut. When time came to choose an album title we discovered that quite a few songs deal with this "time-theme" in some way or another. So, naturally we decided that it would make a good subject to base the album title on. "Race Against Time" then made the most sense, as it provided a good idea to design the album artwork around. Stefan Heilemann himself came up with the concept for the album cover based on the theme and it turned out really cool, we think.
MA – Some of you have strong classical music studies. Debora had piano and singing classes; Eros, Tom and Pascal played trumpet, flute and other. Man, how to deal with all those influences?
As we already mentioned, the aspect of classical music can definitely be felt in our music. We have a lot of different influences, but usually there is no real problem or great debate over musical decisions. We have multiple songwriters within the band and each one brings his own distinctive musical background and personal feel into the mix. Our keyboarder Tom writes the most songs but Angelo and Pascal also provide their share in that department. Debora often times comes up with the vocal melodies and writes most of the lyrics. This results in a great diversity of styles, which I would consider a very strong attribute of Deep Sun. In the early days, the songs were written pretty much collectively during band practice. Nowadays, usually one of the aforementioned brings in a roughly finished song and then it gets polished during rehearsals. In that process everybody brings in their ideas and suggestions until everybody is happy with the result. Sometimes it takes quite a while and the song evolves over a long period of time, but with this method the various influences and styles come together very naturally and the final result is an organically grown piece of music that could not be replicated in any other constellation.
MA – Well, I guess that's okay. Thank you! Wish you the best luck!
DS – You're welcome! Thank you very much also, we appreciate your support!