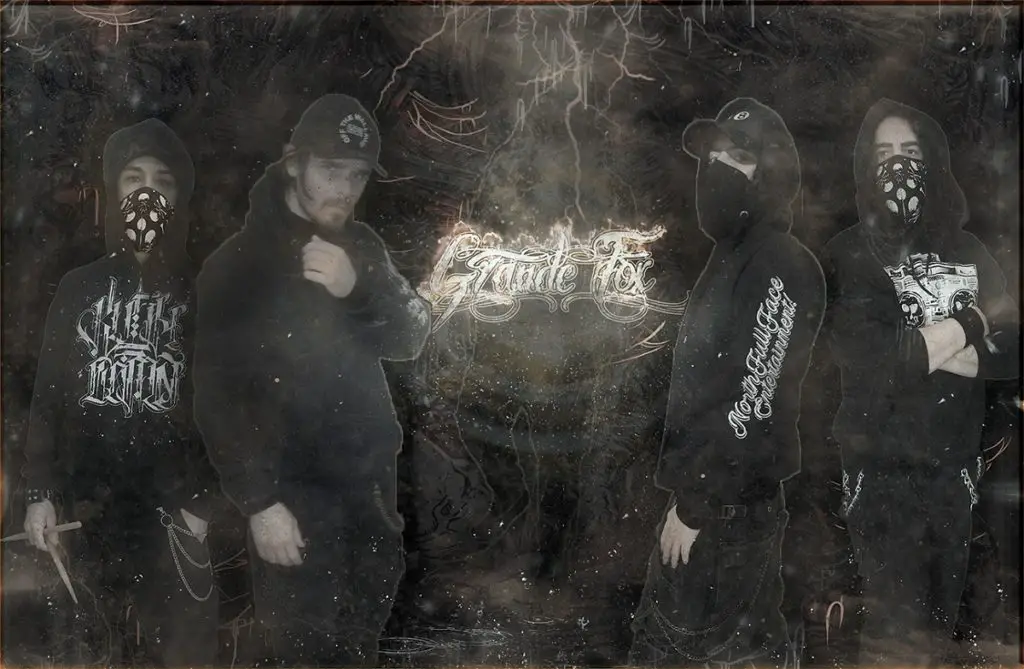 Below you can find our interview with Greece band GRANDE FOX.
How did you guys meet and started the Band? And who are the members today?
Hello everyone, hope you're doing well. Thanks a lot for the interview, we are very happy to be chatting with you today.
"Well, the band was founded in Thessaloniki, Greece in 2013 by our two founding members Nick Berza (frontman-vocalist) and Zao Lefteris (guitarist – visuals), who were good friends sharing the same vision and dream to create a band with unique character and identity. In the first years, we started with temporary members but after a long time of searching for permanent ones, we met Jim Loukas (Drums) & George Chaikas (Bass), who were added to our nest. The route is long enough to reach our biggest goals but now we are four brothers, four foxes and pave the way for great things."
What led you to understand that music was your path?
The most important reason was our eagerness to express our anger, our thoughts and our concerns for various things happening in our lives, individually or generally in the world. We felt that need for expression and, in combination with our love for music, we clearly understood that we want and we have to follow this path.
What's the biggest problem you've had to overcome so far as a Band?
Great question! As you know, a band and specifically a DIY band, who has big goals for the future, is not only about playing music. If you want to reach a high professional level you have to work all day, you have to deal with many different things concerning the band while maintaining a professional identity at the same time.. You also have to constantly be productive over time. Without all these, you won't be able to continue to exist in the music industry and to evolve. That's the biggest point we had to overcome.
How do you describe your music to people?
We describe it as Heavy Rock music, experimental and with many psychedelic elements. We have a wide range of influences, from stoner and heavy rock to metal. So, we are not used to putting boundaries on what we feel and want to express when we write music.
Your latest album ''EMPTY NEST'' was self-released in 2021. How do you feel about it?
We feel great. We have been waiting for a long time to release Empty Nest and see what impact it will have on the public. The period we wrote and record this album was very difficult and transitional for us but in the end we made it and we very happy.
What is the feedback you get till today?
Everything went much better than expected. We received very good reviews from various magazines, websites and people, and fans' thoughts were very honorable about our music. Many radio shows all over the world play our songs as well. Now, it seems like the situation with covid-19 is getting better and better and stages and festivals are opening up again, so we are looking forward to play our new album live.
What does the album's title reveal?
The title reveals the new beginning of our nest. A nest which went through a difficult period in the previous years and had to overcome a lot of difficulties but it is still alive. It was left empty but it's reborn again having more confidence, strength, energy and of course a big vision.
What are the songs about? Are there any specific themes that they cover?
The main themes are about the harsh reality we live in today and the discord and malice we see every day. A system that consists of some people who make all the decisions and their only purpose is to make more and more money, leaving the rest of world to struggle for survival in this jungle. We have mentioned it again, it's the god of money. These are the main subjects we raise on ''Empty Nest'' and through our songs we pass various awakening messages.
How would you define the word ''success''?
Success can mean different things to each person. Success for us is to manage to accomplish and achieve the goals we set each time in order to gain experience, to set new higher goals and to evolve following our vision. In this way, we will constantly be productive and timeless.
Are you planning any Live Shows in 2022?
Yes, of course. We are about to plan a lot of things and live shows for the next year in Greece and abroad. We can't say anything officially yet. However, talking about these two last months of 2021, we would like to tell you that we will have a live show in Larnaca, Cyprus in December 16th and we will also shoot a new video clip on the song ''Route99'' in Limassol the next day.