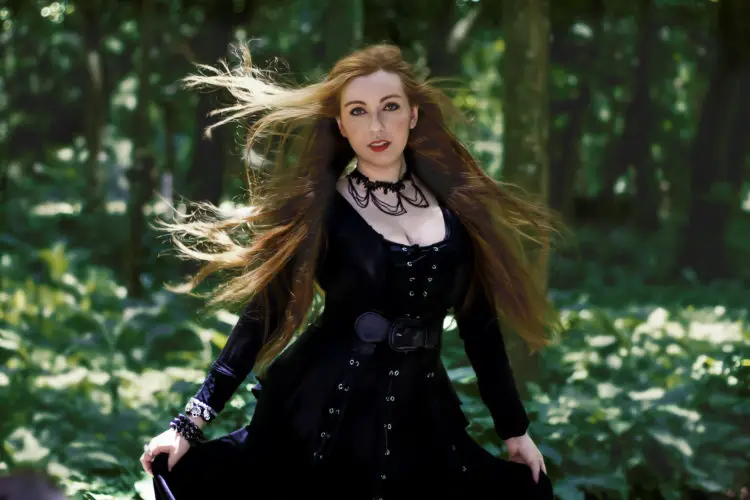 Metal Addicts – Hi, Aline Happ. It's a pleasure and a honor to be talking to you. I always say here on Metal Addicts that hard work pays off and I'm aware of all the hard work you've been doing these years. Tell us about the crowdfunding campaign to help release "Immersion" album and "Hard to Believe" music video. Whose idea was it? Do you intend to go on with this kind of campaign?
Aline Happ – Hi, thanks! In fact, we did the same for our first album, "Catharsis," in 2014. We were just in the beginning and we weren't well known, but we had success: we released "Catharsis" and the music video "Jester." So, I thought it would be a good idea to do the same for our new album. Without the crowdfunding campaign, it would be really difficult to release "Immersion" and the music video "Hard to Believe." Fortunately, we had many fans from different parts of the world participating and, again, we reached our goal. It was amazing! I think the album gets even more special when we have the participation of our fans (our Lyria Army), because we both (band and fans) feel we are building something together. So, for sure I have plans for other crowdfunding campaigns.
Metal Addicts – You are a mezzo-soprano. Do you have a formal degree in singing? Tell us about that. What's your background? Any teaching experiences? Do you think it is important to a Metal vocalist to have a formal education in music? Who are the vocalists that influenced you the most?
Aline Happ – I started to study singing when I was 13. I had three different teachers and learned some different techniques. For sure it was important not only to develop singing abilities, but to feel more comfortable in singing in front of a crowd. Nowadays, I study on my own. I also believe it is very important to study with a professional when you are starting, but I don't think it is mandatory to have a formal education in music to be a musician. But of course it can help too. I have many influences, but I think I got my own style mixing erudite and popular singing techniques. Since I was 13, I started to listen to Symphonic Metal bands like Nightwish, Lacuna Coil, After Forever, Within Temptation and Evanescence, so all of them influenced me in some way.
Metal Addicts – We're living times that the social media are very important to our lives. Lyria are a band with a huge presence on social media. Who's responsible for it? How can Metal bands get better results with social media?
Aline Happ – Because of social media, Lyria have been growing a lot. We have fans from different parts of the world interacting with us and among Lyria Army community. I think it is very important to be in contact with our fans, they need to know we are always working in something new for them. We also enjoy a lot this proximity with our fans and I believe it is also a differential in the end. My husband and I take care of the social media and we also have a PR Agent. All bands should be closer to their fans if they want a real and fast feedback.
Metal Addicts – In our review, I told that Lyria, and symphonic bands, play an important role in Metal music which is to fill in the blanks of those fans who are in the borders of pop and Metal. Years ago this gap was filled by bands like Bon Jovi, Ratt, and others. From where I'm standing everybody deserves a place under the Sun. Don't you agree? How do you see it?
Aline Happ – I agree. It is funny that we have many fans that weren't familiar to metal or Symphonic Metal, but they love Lyria.  Maybe because we mix different elements from other music styles too. And sure, if you do a great work, with all your heart, and promote it to the right people you will have success.  It is hard, it takes time, but you will eventually find your place. Sometimes, I see some people thinking about it as a kind of competition, but I believe there is enough room for everyone, just be yourself and write music with your heart, don't try to copy a band and everything they do, you need to be sincere to yourself and to the fans. People may have some favorite bands, but you can like and listen to as many bands you want to.  If we have more people listening to metal and rock, more people can come to us.
Metal Addicts – Metal scene is very diverse these days, but bands seem to be forming a strict circle of relations, I mean, symphonic bands only tour with symphonic bands. The exception is huge festivals where bands have to get along with other Metal subgenres. This was away different in the past. Which bands have you toured with? Were they all symphonic?
Aline Happ – Recently, we organized the first edition of Lyria Fest and we invited two different bands to share the stage: a progressive metal band and a metalcore band. The crowd reacted very well to this diversity. We normally tour by ourselves and sometimes we play with local bands, which can be symphonic or not. For instance, two weeks ago, we played with a traditional Heavy Metal band in Sorocaba and a Symphonic Metal band in São José dos Campos. But as you mentioned, it is even more common when we participate on festivals, since we play with very different bands.
Metal Addicts – Brazil has a great Metal scene with some very worldwide well-known bands. Though, it seems that most of them are somewhat more related to Extreme Metal. Besides, classical music doesn't play an important role into the lives of many Brazilians and Symphonic Metal bands aren't that common. How did you come with idea of joining a Symphonic Metal band? How about the language barriers, have you ever considered writing songs in Portuguese? Was it singing in English the band's first choice? What can you tell us about Brazilian Metal scene on fans and places to perform?
Aline Happ – You are right, it seems that Extreme Metal has a loyal crowd not only in Brazil, but in South America in general. But Symphonic has its place too. Evanescence are very famous among the rock community in Brazil and I think it opened a door to Symphonic Metal bands. I founded Lyria in 2012 and I started to write music in which my voice could fit well. Not only me, but all the band members have many different influences outside the Symphonic Metal genre. I listen to a lot of alternative metal bands and rock bands from 90's and 2000's and it is possible to feel these influences in the instrumental parts of our songs. We bring different ideas and we mix everything.
English is a global language, so it can reach more people. By the way, I used to be an English teacher before Lyria and also worked as a Marketing assistant, so English is very natural to me.
Classical music is far from being popular in Brazil. In fact, Brazil is huge and have an immense cultural diversity, but rock and metal are not the main music genres. However, there is a nice Metal scene in Brazil: you can see that the Metal day on Rock in Rio is always really crowded, but many people are listening only to classic bands. Most of them are not used to listen to new bands, mainly because they don't know how to search for these bands and because it is hard for a band to reach this public. Many go to cover band concerts, but want something new too. That is why it is so important to find a way to reach these people, by using the social media, for example.
Metal Addicts – How about touring? How's your routine of traveling and getting ready for trips? Have you ever been in a huge show in a huge festival or anything like that? I love to ask that: What was the most unusual place you have played?
Aline Happ – We are touring at the moment to promote our new album, "Immersion." We have been playing in different cities and states and the idea for next year is expanding it even more.
Yes, we have played in big festivals, like Roça in Roll, in 2016. About unusual places, we played once in a venue that was a barbershop in the morning/afternoon and a rock bar in the evening/night.
Metal Addicts – Metal scene today is very diverse. There are lots of bands playing music with lots of influences bringing up some excellent new material. How do you feel about it? Are you a nostalgic band that praise the good old days or do you think the best is still to come? How do you feel about new bands?
Aline Happ – I think it is important to listen to the classics, but always to give a chance to something new too. We have good bands from different places and different times. It is very nice to discover new bands.
 Metal Addicts – What are Lyria's influences? Who's the mastermind?
Aline Happ – Symphonic Metal, Alternative Metal, Heavy Metal, rock, Celtic music and many more. We create music together, everyone participates, but I write all the lyrics (usually with my husband) and normally the voice melodies too.
 Metal Addicts – Well, I guess that's all for now. Thank you very much. Wish you the best of luck. Best greetings from Metal Addicts. Stay Metal!
Aline Happ – Thank you! Hope you guys like the interview. If you want to know more about Lyria, we are on Spotify, Deezer, Itunes, Apple Music, Google Play, Amazon and many other digital platforms. You can also find us on Instagram, Facebook and Youtube. \m/ 
 Links:
www.lyriaband.com(Official website site. Get autographed CDs, photos, T-shirts, mugs and more)
www.facebook.com/lyriaband(Official Facebook Page)
www.instagram.com/lyriaband(Official Instagram Page)
www.facebook.com/alinehapp(Official Aline Happ's Facebook Page)
www.instagram.com/alinehapp(Official Aline Happ's Instagram)
www.youtube.com/lyriaband(Official Youtube Channel)