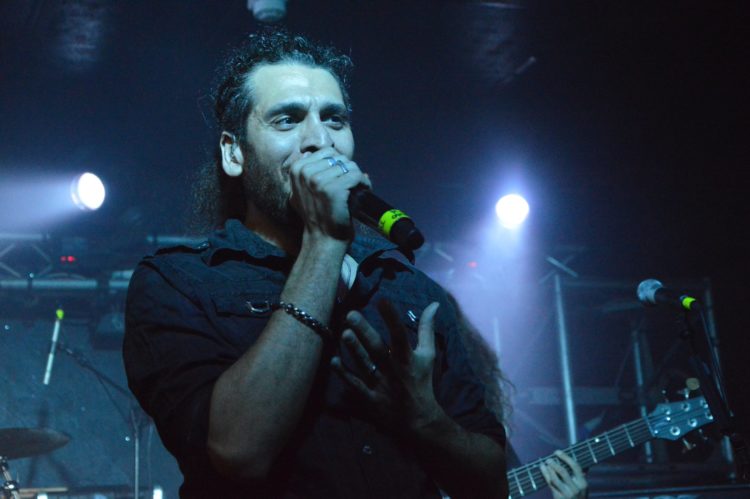 Metal Addicts – One of the zillion things that make me love this job here on Metal Addicts is that it made possible find wonderful and talented people as Michele. The dude besides being an amazing vocalist, is from the same city as my grandparents, Udine. After some long chats via Facebook, I thought it would time to do something really serious: an interview. So here we go. On my last count you were the vocalist of Kaledon, Overtures, Temperance, and I was reading in your FB the other day you were joining Visions of Atlantis. Did I miss anything? [Laughs] How about that, my friend? Tell us how you cope with all these bands and their different styles. How about your daily agenda? How difficult is it to deal with all the bands' compromises?
Michele Guaitoli – Hey Ivison!!! At first let me say THANKS for your very nice words, I really appreciate…and as already told you it is so nice to see how many connections this world create: we live in totally different parts of the world but still we have some blood in common: that's wonderful!
Going straight to the point: at first you have to understand that I am a 100% musician. Music IS my job in all and for all, I have no other daily jobs. I run my recording studio in Udine at The Groove Factory, I do teach singing and of course… I am a singer. While being on the road I "earn" my life so it is not that strange to have more than just a band. The second point to be understood is that not all the bands "book their scheduling" in an extremely busy way. Temperance and now Visions of Atlantis are hard touring bands, that stay on the road with long tours, festivals and shows, but Overtures and Kaledon are totally different. Overtures – as they are nowadays – are more like a "project band" that will be back live when (and if) there will be more time from my "main" band, and Kaledon, even if they are part of Italian power metal history, I've been on the road with them since 3 years now and we never had a long tour. The reason why is that my band-maters both in Kaledon and Overtures have other "main" activities in their lives. Some of them have a family and can't stay on the road, some others have a daily job that takes their time…so the situation right now it is that every year I may play 50 shows with Temperance, 50 with VoA and only 4-5 with Kaledon, and none with Overtures. That clearly makes you understand how it is not hard at all to manage this situation.
Metal Addicts – You have a formal degree in singing, don't you? Tell us about that. What's your background? Any teaching experiences? Do you think it is important to a Metal vocalist to have a formal education in music? Who are the vocalists that influenced you the most?
Michele Guaitoli – I do, and not only in singing. I've been studying piano for something like 10 years in my youth. I got my diploma in musical theory and later in harmony too in a music college here in Italy (Conservatorio Tartini in Trieste), studied music at University to. So, I really can say that I dedicated my life to music! Of course now I am teaching when I am not on the road.
One of the reasons why I choose to be a "metal singer" is because it is technically challenging too. So, I really do believe that it is important to "know your business" while singing this style. It is not necessarily a matter of how much or how many years you've been studying, but it's a matter of self- consciousness. You have to know your limits, know how to manage your voice and know how to deal with your "ups and downs". If you can handle it, you'll be a great singer. If you're slave of your voice…it won't end up good.
Metal Addicts – Italy has a great Metal scene with some very worldwide well-known bands. It seems that most of them are somewhat more related to Power Metal and to a symphonic and classical tradition. Do you think Italy's opera and classical musical background have influenced the scene? The other day we talked to Lectern's Fabio Bava and he told us Extreme Metal bands are also very strong in Italy and also about the many summer festivals and events. What can you tell us about Italian Metal scene?
Michele Guaitoli – Italy is definitely living the metal scene in its own way, with a totally different mood compared to other countries – as far as I've seen it – .
We've got some AMAZING bands that really dedicate their lives to music and the music business and, unfortunately, a lot of bands that just think that everything must come from the outside and if they do not succeed it is "someone's fault". I really hope that those who really sacrifice their lives for music will find their path, 'cause we've got so many talented bands and in a small part, bands like Rhapsody, Lacuna Coil and others have been part of the worldwide metal scene, influencing musicians from all over the world.
But yes, power metal and extreme-metal seem to be the thing in which we best succeed. About power metal: surely the opera and classical background we've had in our history is playing a part there…about the extreme…maybe we're angry enough with our political situation that it comes easy ahhahaha
 Metal Addicts – I published the other day a Ghost's "Life Eternal" cover with you and Alessia, and I noticed that you play the piano. Have you ever considered to be a pro on the keyboards and sing at the same time? Any other secret ability? [Laughs]
Michele Guaitoli – Ahahah as told I've been playing and studying for many years, and also teaching and composing I play the piano almost everyday so I'm used to do it, but I am not a professional. I have my limits and there are tons of GREAT and AMAZING players around the world that would kick my ass in something like one chord. But still, I use it a lot to compose and arrange the songs: almost every Overtures song was firstly composed or arranged on the piano and even the latest Temperance album "Of Jupiter and Moons" had me on the pianos and on the electronics "performances"…
Metal Addicts – Considering that you are currently the lead singer of three bands, what's your secret to remember all the lyrics and songs? Have you ever mistaken lyrics in a show or forgotten your parts?
Michele Guaitoli – I'm surely lucky and I've learnt how to keep stuff in my mind, but I really think this was a gift. Even at school I really had to study less hours than many others of my schoolmates and it was very easy for me to "learn" stuff. I am in debt with mother nature. Every singer does some mistakes sometimes but I'm totally in the average: it is really rare that I mistake words. But just think about it: I'm singing with 3 bands just like every singer in the world have sang in his life with coverbands, or studying songs from many artist of whom he remembers the words, so it is not that strange 😀
Metal Addicts – You told me once you can make a living with music. Kids today are eager to know if discipline helps the musician, or if they can stroll around, never to study and count on their gift. Tell us about your daily of practices, rehearsals and other things. How do you see music industry today?
Michele Guaitoli – Music industry is a lion that is always ready to roar and make you feel a small lamb in a world of lions. It is hard to survive, and only those who sacrifice, study, work on their skills and understand how to be part of the "music world" can survive. I've learnt how to record, how to play the piano, how to play the guitars and bass, how to UNDERSTAND the drums (and write them), I've studied harmony, I've been composing (and failing in composing), I've been begging for shows and being begged to take part in shows. I've rehearsed for hours and hours and I still try to improve my vocals, my way of recording, my way of mixing, my way of singing, my way of being part of the music business. The only way to survive is to understand that we are extremely small cells in a system that is HUGE. Only for the 4 shows with Visions of Atlantis supporting Kamelot I've been practicing and studying the songs almost everyday for one month or something like that, sleeping less to find the time to do it. Discipline, attitude and study: the key is always trying to cross the limits.
Metal Addicts – How about touring? How's your routine of traveling and getting ready for trips? Have you ever been in a huge show in a huge festival or anything like that? I love to ask that: What was the most unusual place you have played? Please, tell us everything! [Laughs]
Michele Guaitoli – Ahahah, on the road – in my personal opinion – most of the times things are better than in the single shows we're used to play. When on tour your mind is 100% focused on shows, you can concentrate only on the performance knowing that the following day you won't have to work, or do something different but performing  another show. The only thing you must take care of is a good and healthy lifestyle 'cause life on the road is very demanding in terms of energies, but on the other hand, those moments every musician rely is doing what a musician wants to do in his life. Those 30/40/60/90 minutes on stage are worth every sacrifice made during your life. I've been playing amazing shows, the ones with Kamelot with VoA are just the last of a great list. I've been playing supporting Stratovarius with Kaledon in Rome in a huge event, I've been playing the Gods of Metal with Overtures supporting Rammstein, Korn and Megadeth and many really amazing festivals, and still I feel like a child at his first show everytime I get on stage, willing to do my best. The most unusual place… Well… I remember about playing in a living-room once. It was meant to be a public show but, for real, it was a living room of the owner of that house who invited people there to see my band. ahahha
Metal Addicts – Besides singing, are an important part on songwriting? Do you give your hints, or you leave it to the bands' masterminds?
Michele Guaitoli – It really depends on the band. With Overtures I was "the mastermind" and I composed almost every song, starting with the piano and arranging them mainly with Marco Falanga. With Kaledon it is Alex who compose, but still in a couple of songs I wrote the words and vocal melodies. With Temperance I've been writing the lyrics of 6 out of 10 songs of "Of Jupiter and Moons" but all the music was already composed by Marco, but I am sure that the next Temperance album will have something mine too. About hints: there's only one I'd really suggest to everyone approaching to composing. Every song you compose, in my honest opinion, it must work in almost every style or arrangement. What really makes a good song is the melody. If the melody is good – a cappella, with an acoustic arrangement, with an electric arrangement, with a jazzy arrangement, with a pop arrangement, with a heavy metal arrangement – then the song will work. If you can clearly understand the refrain, the verses and REMEMBER them after some days from the moment you had the idea: well, that's a working song. If you don't remember it after a few days, if without music the song "is not good", then there's something to be done…
Metal Addicts – I've been a metalhead since I was 14 years old. Since then, Metal has been an important part of my life and I can say it shaped a bit of who I am. How about you? Was Metal an important part of your life?
Michele Guaitoli – I've been a metalhead since I was something like 14 too. I remember that it was 1997 when I get close to this style listening to Blind Guardian, Gamma Ray, Iron Maiden and Metallica. Before heavy metal I was really in love with the Offspring in particular and punk-rock in general, but still I was a fan of alternative rock. Guano Apes, System of a Down, Tool, Linkin' Park. They're all bands I've been listening to since I was a child. What I can say is that once I fell in love with heavy metal, I've never got back. Not a single moment in my life I thought it "wasn't part of me". And still today I'm so into this style that I cannot imagine my life without it.
Metal Addicts – Metal scene today is very diverse. There are lots of bands playing music with lots of influences bringing up some excellent new material. How do you feel about it? Are you a nostalgic band that praise the good old days or do you think the best is still to come? How do you feel about new bands?
Michele Guaitoli – Music is evolving just like our world is evolving. Every "era" will have the nostalgic and the "avantgarde-lovers". I love music and I love the evolution of music in the years, but I am a bit strange on it 'cause I put no limits in listening to any kind of style and I really love every shape of music: from classical to heavy metal, from electronics to extreme metal. Being open-minded surely was something that really helped me to reach some of my goals in this world.
Metal Addicts – Well, I guess that's all for now. Thank you very much, my brother. Wish you the best of luck. Best greetings from Metal Addicts. Stay Metal!
Michele  Guaitoli – THANK YOU, 'cause you and the webzines from all around the world are those who give us the chance to show what's behind the musician, to tell our ideas and ideals to the world. So, THANKS A LOT!!! Hope to meet you on the road, sooner or later!