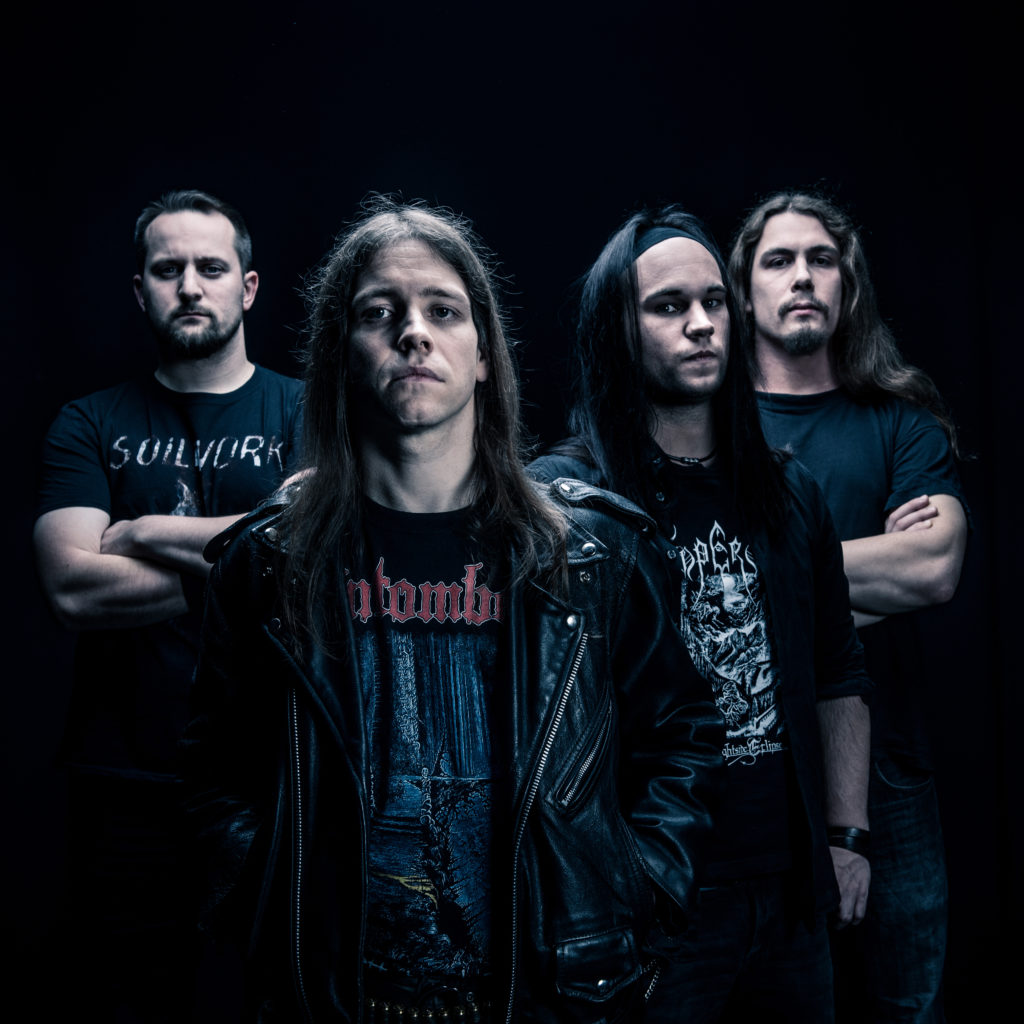 Metal Addicts – First of all, guys, congrats to your album! I had some quality time listening to it! Great album with solid guitar work. Well, to get started could you give us a brief on the band. I mean who you are, when did it start, things like this.
Marcel Bangert – Thank you very much, we appreciate that a lot. Well, telling from the very beginning from my point of view seems to be a little bit difficult, because our Singer Sebastian "Sucking" Rehbein is the only founding band member left. From all I know the band was formed in March 2001, while he was watching the Iron Maiden videotape "Donington Live" from 1992 with a couple of friends. The essential drive was just to create own music and have a good time. From this time the Band started and had a couple of Line-Up changes. The current Line-Up only exists for 2 years now I think. Christian (Bass), Manuel (Drums) and myself have in common, that we were contacted by the former Guitarist Gunter Weppler through a musician platform. Unfortunately he decided to leave the Band in 2016 before the first tour with Six Feet Under and our planned recording sessions for the new album. Since then, we play in a classic foursome cast.
Metal Addicts – Nice story! Well, from where I'm standing, the name of a band is the most important thing because it's the band's identity which may reflect on songs and everything else. So how did you come up with Mindreaper?
Marcel Bangert – The band name goes back to our vocalist Sebastian. He describes the Mindreaper as a symbolic figure that comes to you when your sanity is in boundary areas. This can be some kind of Intoxication, near-death experience, insanity and all kinds of strong emotions for example. Furthermore you can consider it as the everyday mental illness that we encounter in our own personal lives, what naturally depends on the respective point of view. This stuff results in the innumerable themes, which Sebastian inspire to form the lyrics of the songs.
Metal Addicts – All right, I see. Death Metal has a tradition of besides using some disturbing themes for songs politics is also on the table. Your first effort was named "Human Edge (… to the Abyss)" and your second "Mirror Construction (… a disordered World)." It seems to me that they are a kind of following up. In both you discuss humankind future, is that so? How do you see our future? With good or bad eyes?
Marcel Bangert – Yes indeed, that is the "red line" which will probably also go through our future albums. Obvious predatory capitalism, blinded fanatics on all political and religious branches and the apathetic deafness, especially in the context of a supersaturated consumption offer, are only a few of many evil that leads social demands. I can only speak for myself that I have only little hope for humanity. From my point of view today's civilization existence will fail through our delusion of grandeur, especially by our so-called leading elites. As in the course of history most unilateral pronounced power relations have fallen, either through revolution or international migration. It is possible there will be a naturally corrective balance in our epoch as well. But the main question is which price will it cost and why are we unable to create it without loss? From my point of view, we do not act better here than a strain of bacteria bred in the laboratory. At last we exponentiate until our saturation limit is reached and we suffocate ourselves. Social and sustainable market economy? Unfortunately it seems like an illusion, if you consider the present global prosperity and I do not see other realistic solutions to this problem.
Metal Addicts – I totally agree. I really don't know if there's a light at the end of the tunnel, but for sure it is priced. Listening to "Mirror Construction (… a disordered World)" I noticed a band with a lot of care in the songwriting process and the recording as well. Can you tell us how was the songwriting process? Is there a mastermind in the band or does everybody take a part in it? How was the recording process? Where did you record the band? Was it very different from "Human Edge (… to the Abyss)"?
Marcel Bangert – Well, the biggest difference is that Sebastian is the only member left even from the Human Edge Album writing phase. Manuel, Christian and I had no influence on the old material, because it was written long before we got into the band. For the new album I have written 60% percent of the music and one lyric ("Story of Rejection") by myself, while songs like Enigma, Purity of Wrath, Torch's Fall and Stillborn God were created by me and Gunter Weppler. Furthermore Gunter has recorded the guitars on the Human Edge in Studio 13 with Michael Schlor, while I have recorded all the guitars for the new "Mirror Construction (…a disordered World)" in the Stage One Studio (under the direction of Andy Classen). The same goes for the bass and drums. The new album is so to speak the first official recording appearance for Christian "Ens" Schoenke on bass and Manuel Nozulak and for me in the band discography. In the case of the "Human Edge" LP, Manu joined the band less time after the recording. That's why is on the cover, because his predecessor left the band during the recordings. Beyond that Manuel had a huge influence on the vocal arrangements and their recording and is also represented on the record with a significant proportion of passages, where you can hear him growling alone or together with Sebastian. However, no one really noticed this so far in the reviews I think [laughing]. They are both really great in growling and their voices complement each other very well. This process developed very naturally due to our first demo rehearsals back in 2015 I think and wasn`t really planned. Accordingly, it becomes clear that the new album were partially created by a whole new band, which makes it difficult to compare the new stuff to the old releases. As it goes for the straight recording process for the new album we have partly worked in our home studios and in the Stage One Studio. Vocals were recorded for example in the home studio of Sebastian with our drummer Manuel. Guitar and bass parts were all recorded in the Stage One Studio otherwise. As well as I have a complete other style than the old guitar player, the same remains for Christian. The old bassist for example played with a pick, while Christian is a right hand fingerstyle rhythm monster. These factors result in a completely different sound picture of the "Mirror Construction (…a disordered World)" compare to the "Human Edge (…to the Abyss)." However, before we started working in the studio, I have transcribed the songs with guitar pro and stuff like that. On that base we have produced demo tracks, if everyone liked the songs. These demos are the cornerstone we build on during the studio recordings, because we all work with the same backing tracks. In addition, we also recognize what fits and what not in the context of our common musical vision, before it gets to a costly production.
Metal Addicts – I didn't notice that. Maybe I'm one more careless reviewer… lol Heavy Metal is one of the musical genres that still sticks to the good old album formula and it is consistently doing pretty well. I mean, HM albums still sell, of course not as much as pop, but it does. There is an open debate among musicians and the media that bands are making very few dollars with albums due to all the existing digital services which allow fans to get music without paying a penny. What's your view about this debate? BTW, can Mindreaper make a living with their music or you all have other jobs?
Marcel Bangert – Definitely a question that is not easy to answer. First, we are not able to make a living from the music, even as music teachers besides the band for example. We all have our common "9 to 5" jobs that pay the band. I think that sentence describes the situation of most of the underground acts pretty well for now. If someone starts out today with own music you can't expect that something comes around financially at the end. Of course, you could now push the entire fault on the digital distribution. But, on the other hand, you have to compete more than ever with an immense density of bands and music. All that makes it really difficult to cut through that big available cloud the listeners can experience all day long. That leads to a lot of work and luck to convince a substantial amount of the audience that your music is worthy to pay for. But unfortunately it goes on this way too how it should be probably, because music has generally lost its former value for a lot of people. After all, it is an unwritten law that we only appreciate and respect things that we also have to pay for I think. Certainly you can't generalize that to everyone, but the numerous finance break-ins, which even many well-known artists official refer to, maybe speaks for themselves. I remember that I had read once an interview with Bruce Springsteen maybe 1-2 years ago, where he indicates that his incomes are in a lower four-digit range per year, only considered by the digital distributions. Although I have no idea how that stands for the younger top metal acts on that topic, but I think It is realistic to assume that it doesn´t look very bright there either. From this point it is easy to imagine that most of the underground bands can`t have any significant revenue through this way, if huge artists are struggling with it either. This leads to a plummeting income for underground acts. They have to encounter a rising increase of advance payment, if they want quality production and a widely scattered promotion. Also most of the bigger labels and promoters do not want to take high risks any more due to the low income of pure music consumption. If this trend is going to continue I could imagine that real active bands with a professional touring package, big concerts and so on could disappear more and more. But let's hope I'm completely wrong with this assumption.
Metal Addicts – Due to all aforementioned, tours are more than ever a very important channel to get in touch with fans, to promote albums, and of course, to provide the means so he band can keep up. So, what are your plans for tours? Does the world have a plan to Mindreaper? Could tell us where you have played around the years? What was the most unusual place you have played?
Marcel Bangert – Besides local spots the most exciting concerts were during our tour with Six Feet Under on the Graveyard Classic Tour 2016 and the Russian Tour 2017, where we covered approximately 7,500 kilometers for the gigs. I think I can speak for all of us that all places in Russia were unusual. Not so much of the locations for the gigs themselves, but from the culture clash we experienced to our road through the country. But it was one hell of great time being there and we hope to come back there. The metal audience we met was very passionate. We immortalized some video clips of these concerts in our lyric video for the song "Mirror Artifacts" for example, as a sign of our great gratitude to the visitors of our gigs back then in Russia. This year in November we are in planning to do a tour in Eastern Europe which will take us through the Czech Republic, Slovakia, and Poland to promote our new album. However, the schedule for a 2019 tour is still unclear so far. We're thankful and really open minded for any offer we can get.
Metal Addicts – Metal scene today is very diverse. There are lots of bands playing music with lots of influences bringing up some excellent new material. Are you a nostalgic band that praise the good old days? How do you feel about new bands?
Marcel Bangert – Everyone in this band has his own and very different point of view, when it comes the comparison and musical taste between traditional or more modern acts. But at last we appreciate both of them. Form our opinion a tight overproduced or a more traditional sound has the same authorization to be there. It has become a mean of expression in term what a band has to consider what will fit their message the best. In the end it counts that you have a good song that can touch the audience, which doesn`t necessarily depend on the style of a production. The song remains the same and I am convinced that meaningless music will never sustain itself in a long-term memory of the people. In my opinion the actual nostalgic praise becomes so strong, because most of the biggest Rock/Metal hits seem to have been written already, if you compare them to new acts. Furthermore, I could imagine that these excessive glorification will be reinforced by the fact of uncertainties with regard to increasing socio-political circumstances. Therefore, the demand for a possible simple and secure society (what most people attribute to the "good old days") can develop really fast. I think we in the band are no exception and a little bit affected by it either, because I believe most of us idolized our former and formative music experience. However, it also increases the pressure on younger and new artists which thereby will always be in the shadow of the ancient cult bands. Even today classics will be written from my opinion (Witchcrafts – Legend or GOLDs-Optimist, for me as an example), but with an increasing age it is nearly impossible to get that kind of impression, as if you are young and being unaffected. At last the defining impression counts and I think it is also important that this field will be left to new and hopefully fresh blood within some time, which are worthy the spotlight.
Metal Addicts – I always tell my readers that there is no such thing as spontaneous generation, nothing comes out of the blue. What are your influences? Which are the bands that played a big role in Mindreaper's career?
Marcel Bangert – If we talk about influences, we have of course all our favorite bands and musicians, which can be really different. We definitely share a great love for the Melodic Death Metal of the 90s. Sebastian has the biggest roots in the classical Death and Thrash Metal context, while Christian and Manuel are definitely more into melodic stuff I think. If it comes to guitar influences I am really into that kind of players like Randy Rhoads, Uli Jon Roth and Ritchie Blackmore. But of course, I really appreciate and have high respect for musician of a younger period, like Andy James, Alex Laiho and Dimebag. Not just as guitar player but also as songwriters. In addition, we are also very open and hear a lot of music besides the rock and metal genre. But that would certainly go beyond the scope here to enumerate.
Metal Addicts – Well, I think that's all for now. Hope you guys get really well with "Mirror Construction (… a disordered World)." Wish you the best of luck. Greetings from Metal Addicts.
 Marcel Bangert – Thanks a lot! We wish Metal Addicts the same too!