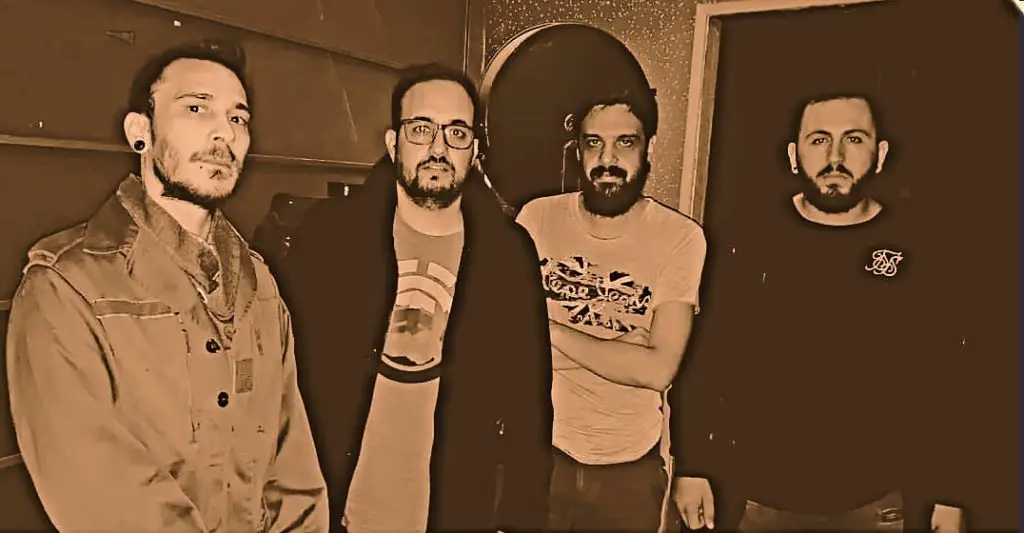 We had a chance to catch up with Cypriot band MONKEY MIND to talk about their new album, social media, band's influences and lot more.
Entire interview follows bellow.
Monkey Mind, must say like this band name a lot, why you chosen this name?
Hello. The name comes from a term used in meditation to describe the uneasy mind, the one one is trying to tame during meditation. For us it has a double meaning, it can be this idea of looking for calmness and stillness, but at the same time it can be the drive that this uneasy mind can give us in never resting and constantly trying to find new things and new ideas.
Introduce your band members and tell us how you all came up together.
We have Christodoulos on guitar and vocals, Andreas on guitar, Doros on drums and Chris on the bass. Me (Andreas) and Christodoulos used to play together for many years in different bands, before deciding in 2016 to form Monkey Mind and focusing on this specific style. Doros joined immediately while Chris joined after a year or so.
Give us details of your latest album.
The album is called 'Breakdown' and it was released on the 23rd of July by Boersma Records. It's our first full-length album and can be heard on Youtube and all digital platforms. It is also available on hard copies through us or the label.
Who is responsible for the music and lyrics?
The music is a collaboration between the member of the band. Some songs have been initially written by me (Andreas) and reworked in rehearsal with everyone getting in their own ideas, not only regarding their parts but ideas regarding any element of the song, while some others were written based on an idea or a riff. For the lyrics, it was mostly my (Andreas) work.
What type of recording process did you use?
We recorded in the usual way, using layers and different lines for each instruments. However, we decided to record the drums and the bass together, in order to give a more authentic and spontaneous groove. Also, a lot of the elements, including certain guitar parts and solos, were not pre decided, as we wanted to allow this authentic feel be part of the album.
Do you feel social media helps promoting your Music?
Definitely social media are very important nowadays in promoting music, but I think live performances are still the most important element of promotion, something we have missed die to the current situation.
Who or what have been the most important influences on your musical life and career?
We cannot say that there is one artist or one music style that has been the most important influence, as, when you listen to the album, you will realize that our music is pretty much a blend of many different styles. Artists like Metallica, Anathema, Linkin Park, Foo Fighters, Tool and many other can be said to have equally influenced us, although some of them are very different between them.
Where would you like to be as a band in 5 years' time?
Our main goal is to continue to enjoy doing what we are doing, and continue do it authentically. Of course we would like to be in a position where we will be able to do more gigs, especially abroad, and reach as many people as possible, both physically and digitally. Additionally, we would like to release more albums, as we have a lot of ideas, some very different than what one can listen on this album.
Are you willing to push beyond your limitations even when it's hard and very uncomfortable?
We first and foremost do what we do because we love it and enjoy doing this. Do I guess we are ready to push as far as this is not compromised and does not turn into a witch hunt. We realize the difficulties, especially coming from a small country, so we take it day by day, step by step.
Who are your favourite musicians?
Each of us has different preferences and different influences, but there are some artists that have influenced our music as a band. As I mentioned above, Metallica, Anathema, Linkin Park, Foo Fighters and Tool are some of them, we could also include Muse, Rage against the Machine, Audioslave, Soundgarded and many more.
What are your next plans?
Our next plans is to try to physically promote our album through live shows, as this is what it's all about. Stand in front of the people and play your music. This is the ultimate form of expression, in our opinion.
Are your ready to fly around the world for Live Shows?
Of course, given this opportunity, we would love to have this experience, as much as possible.
Is there anything else you like to add before we close?
We would like to thank you for the interest and wish everyone to stay strong and healthy in this difficult situation. We hope to see each one of you soon.